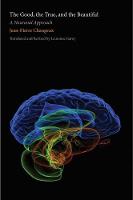 Series:

Format:

Hardback

Publication date:

29 May 2012

ISBN:

9780300161397

Imprint:

Dimensions:

400 pages: 210 x 140 x 27mm

Illustrations:

49 b-w illus.
Categories:
In this fascinating and bold discussion, France's renowned neurobiologist Jean-Pierre Changeux serves as guide to the most complex physical object in the living world: the human brain. Taking into account the newest brain research - morphological, physiological, chemical, and genetic - and placing these findings in the context of psychology, philosophy, art, and literature, Changeux ventures into the unexplored territories where these diverse disciplines intersect. Changeux's book draws on Plato's notion that the Good, the True, and the Beautiful are celestial essences or ideas, independent but so intertwined as to be inseparable.
Placing these essences within the characteristic features of the human brain's neuronal organization, the author addresses unsolved questions in neuroscience today. What is it to "perceive" something? How are we aware of our own existence? If we truly integrate the disciplines of neuroscience, biology, human science, and the history of civilization, what will we learn about our species? With imagination and deep insight, Changeux illuminates the evolution of the brain and deciphers what new developments in neuroscience may portend for the future of humanity.
Jean-Pierre Changeux held the Chair of Cellular Communication at the Collège de France for thirty years, and is a member of the French Academy of Sciences and a foreign associate of the U.S. National Academy of Sciences. He lives in Paris. Laurence Garey is a neuroscientist and noted translator of books on neuroscience from French and German to English. He lives in Perroy, Switzerland.
"Based on the latest neuroscience, these up-beat lectures by Jean-Pierre Changeux are a constant delight. He explains how our brains are wired to find the Good (by reason), discover the True (by science), and admire the Beautiful (by cultural selection). His sources range widely, from Plato to Magritte, John Locke to Prince Kropotkin. With this book, Changeux assumes the mantle of Denis Diderot."—Gerald Weissmann, author of Epigenetics in the Age of Twitter
"Few successful scientists are capable of thoughtful reflection on the significance of their science.  But Jean-Pierre Changeux is an exception.   He is a practicing philosopher of science in the best and broadest sense of the term.  This is a must read."—Antonio Damasio, University Professor, David Dornsife Professor of Neuroscience and Director, Brain and Creativity Institute, University of Southern California
"One of the world's current leading neuroscientists approaches anew Plato's ultimate questions relating to the natural world—from the functioning of the billions of neurons in our brains all the way to their molecular structures and interactions.  An illuminating contribution for the thoughtful reader."—Roger Guillemin, 1977 Nobel Prize in Physiology or Medicine, The Salk Institute, La Jolla California
"Jean-Pierre Changeux is the leading expert on the brain's epigenetic plasticity--what accounts for its interaction with the outside world.  In this masterful book, he provides a cornucopia of brilliant insights into the neurobiological grounding and social nurturing of art, ethics and scientific truth."—Suzanne Nalbantian, author of Memory in Literature: From Rousseau to Neuroscience