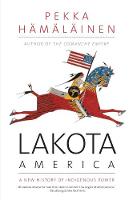 Lakota America A New History of Indigenous Power Pekka Hamalainen
Series:

Format:

Paperback

Publication date:

24 Nov 2020

ISBN:

9780300255256

Imprint:

Dimensions:

544 pages: 235 x 156mm

Illustrations:

54 b-w illus.

Sales territories:

World
Categories:
The first comprehensive history of the Lakota Indians and their profound role in shaping America's history
 
"All nations deserve to have their stories told with this degree of attentiveness"—Parul Sehgal, New York Times

Winner of the MPIBA Reading the West Book Award for narrative nonfiction, this first complete account of the Lakota Indians traces their rich and often surprising history from the early sixteenth to the early twenty‑first century. Pekka Hämäläinen explores the Lakotas' roots as marginal hunter‑gatherers and reveals how they reinvented themselves twice: first as a river people who dominated the Missouri Valley, America's great commercial artery, and then—in what was America's first sweeping westward expansion—as a horse people who ruled supreme on the vast high plains.
 
The Lakotas are imprinted in American historical memory. Red Cloud, Crazy Horse, and Sitting Bull are iconic figures in the American imagination, but in this groundbreaking book they emerge as something different: the architects of Lakota America, an expansive and enduring Indigenous regime that commanded human fates in the North American interior for generations. Hämäläinen's deeply researched and engagingly written history places the Lakotas at the center of American history, and the results are revelatory.
Pekka Hämäläinen is the Rhodes Professor of American History and Fellow of St. Catherine's College at Oxford University. He has served as the principal investigator of a five‑year project on nomadic empires in world history, funded by the European Research Council. His previous book, The Comanche Empire, won the Bancroft Prize in 2009.
"Impressive. . . . Lakota America takes us from the 16th century to the present, with painstaking, carefully marshaled detail, but its real feat is in threading how the Lakota philosophy and vision of the world guided their reinventions and their dealings with colonial powers. . . . Hämäläinen has the novelist's relish for the strange, pungent detail . . . [in this ] accomplished, and subtle, study."—Parul Sehgal, New York Times
"A comprehensive history of the tribe"—The Economist
Named One of the New York Times Critics' Top Books of 2019
"A briliant, bold, gripping history."—Simon Sebag Montefiore, London Evening Standard, Best Books of 2019
 
"Turned many of the stories I thought I knew about our nation inside out."—Cornelia Channing, Paris Review, Favorite Books of 2019
 "[. . .] You'll catch something roiling beneath that professional composure: a lively truculence that gives this book its pulse, and its purpose. Pekka Hamalainen's impressive history is also a quarrel with the field, with how history — especially the history of indigenous Americans — has been told and sold"—Parul Sehgal, International New York Times
Shortlisted for the Mark Lynton History Prize, sponsored by the Columbia School of Journalism and the Nieman Foundation.
Winner of the Western Heritage Book Award for Nonfiction, sponsored by  the National Cowboy and Western Heritage Museum 
Winner of the Stubbendieck Great Plains Distinguished Book Prize, sponsored by the Center for Great Plains Studies
Winner of the 2020 Spur Award, sponsored by the Western Writers of America
Finalist in the PROSE Awards North American and U.S. History category, sponsored by the Association of American Publishers
"Sitting Bull and Crazy Horse live in history as great warriors. Hämäläinen's brilliant exploration of the history and culture of the people that produced these two men is destined to become a classic."—Annette Gordon-Reed, Harvard University
"Deeply researched, epic in scale, interpretatively adventurous, and ambitious, Lakota America will influence historians for years."—Richard White, Stanford University
"Like the Lakotas he studies, Pekka Hämäläinen is a shapeshifter. He is nuanced, nimble, and wise, with an uncanny capacity for reinvention as new understandings come to light. The result is stunning. To read Lakota America is to rethink American history itself."—Elizabeth Fenn, University of Colorado Boulder
"Lakota America is beautifully researched, persuasively argued, and justifiably audacious in its reach and implications. It is both a landmark in American Indian history and a provocative rethinking of North American history generally."—Elliott West, University of Arkansas