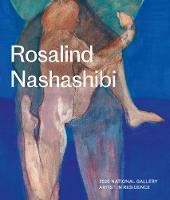 Format:

Paperback

Publication date:

26 Jan 2021

ISBN:

9781857096682

Imprint:

Dimensions:

160 pages: 260 x 235mm

Illustrations:

70 color illus.
Categories:
Rosalind Nashashibi (b. 1973) is a London-based artist working mainly working in 16mm film, painting and prints. Her films convey inner experiences of moments and events, often considering the politics of relations in the community and extended family, while merging everyday observations with fictional or mythological elements. Like her films, her paintings move between impressions and the more concrete depiction of forms or figures, where figuration may be imported from another linguistic order. In 2019 Nashashibi was appointed as artist in residence for 2020 by the National Gallery, London; over the course of a year she worked in the National Gallery's on-site artist's studio, in close proximity to the gallery's collection, research, and teams. As the gallery's inaugural artist in residence, she has explored the ongoing dialogue between the art and artists of the past and that of today, as well as the collection's influence on her own practice as a painter.
Daniel F. Herrmann is curator, and Priyesh Mistry is associate curator, both of modern and contemporary projects at the National Gallery, London. Andrew Parkinson is curator at Pier Arts Centre, Orkney.