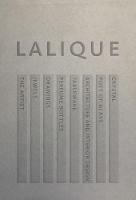 Format:

Hardback

Publication date:

28 Apr 2017

ISBN:

9788874397402

Imprint:

Dimensions:

416 pages: 291 x 199 x 55mm
Categories:
The eight volumes in this box-set reveal the manifold creative talents of Rene Lalique, an exceptional artist, Art Nouveau jeweller, and later Art Deco glassmaker, as well as those of his successors and the many people who perpetuate these skills in the present day.Illustrating previously unpublished works, Lalique retraces the history of the brand and its founding family. For Lalique is above all a famous name: the name of Rene, "the inventor of the modern jewel", as Emile Galle described him at the close of the nineteenth century. Rene Lalique (1860-1945) began his career as a jewellery apprentice at the age of 16, and by 1881 he was a freelance designer for many of the best-known Parisian jewellers.Within a decade, Lalique was amongst the best-known Parisian jewellers using previously neglected materials, such as horn, semi-precious stones, enamels, and glass. These already featured the themes that would recur throughout his career: Female, Flora and Fauna, with the addition of a fourth "F", Form, with the advent of Art Deco.In 1905, Lalique opened a new shop at Place Vendome which exhibited not only jewellery, but glass works as well. It was close to the shop of renowned perfumer Francois Coty; in 1907, Lalique began producing ornate perfume bottles for Coty. During the 1920s and 1930s, Lalique was amongst the world's most renowned glassmakers.From a very young age Rene Lalique enjoyed drawing, observing nature closely andmaking sketches. Although his most detailed works were undoubtedly his jewellerydesigns, drawing was to remain an indispensable prerequisite to his creations. Laliquefound an outlet for his creative genius in all sorts of everyday objects, including lamps,paperweights, perfume bottles, tableware, and statuettes, magnifying their importanceand rendering them wholly exceptional today.Rene Lalique also turned his hand to decoration and the creation of monumental works.Whether designing the stained glass for a chapel, the Vionnet Haute Couture salon in Paris in the 1920s, an imposing fountain for the exhibition of decorative and industrial arts held in Paris in 1925, or objects for railway trains and ocean liners such as the first-class dining room of the luxury ocean liner Normandie, he was always keen to create with glass and to play with light.
Veronique Brumm is a historian who specializes in the history of glassmaking. She is the director of the Lalique Museum in Wingen-sur-Moder, France.