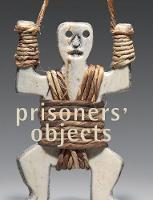 Format:

Hardback

Publication date:

15 Aug 2017

ISBN:

9788874397600

Imprint:

Dimensions:

160 pages: 243 x 197 x 20mm
Categories:
The International Red Cross and Red Crescent Museum in Geneva, Switzerland, houses an extraordinary collection of works made by political prisoners. These works, made from whatever was available, were presented to visiting Red Cross/Red Crescent delegates. Spanning more than a century, they bear mute witness to the violent episodes that continue to ravage our planet, from Chile, Vietnam, Algeria, and Yugoslavia to Rwanda and Afghanistan. As a Lebanese inmate explained, "Creating is a way of acquiring freedom of expression. It gives us a means to say what we think while everything we see around urges us to keep quiet and to forget who we are."
Roger Mayou is director of the International Red Cross and Red Crescent Museum. Dr.Paul Bouvier is a medical adviser to the ICRC. Isabelle Schulte-Tenckhoff is a professor of anthropology in Geneva. Martin Rueff spent three years teaching in La Sante Prison in Paris.