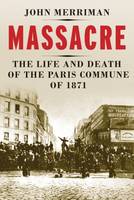 Massacre The Life and Death of the Paris Commune of 1871 John M. Merriman
Format:

Paperback

Publication date:

01 Mar 2016

ISBN:

9780300219449

Imprint:

Dimensions:

336 pages:

Illustrations:

8pp. b-w

Sales territories:

World except the United States, its territories and possessions, the Philippine Republic, Puerto Rico, and Canada
Categories:
One of the most dramatic chapters in the history of nineteenth-century Europe, the Commune of 1871 was an eclectic revolutionary government that held power in Paris across eight weeks between 18 March and 28 May. Its brief rule ended in 'Bloody Week' – the brutal massacre of as many as 15,000 Parisians, and perhaps even more, who perished at the hands of the provisional government's forces. By then, the city's boulevards had been torched and its monuments toppled. More than 40,000 Parisians were investigated, imprisoned or forced into exile – a purging of Parisian society by a conservative national government whose supporters were considerably more horrified by a pile of rubble than the many deaths of the resisters.
 
In this gripping narrative, John Merriman explores the radical and revolutionary roots of the Commune, painting vivid portraits of the Communards – the ordinary workers, famous artists and extraordinary fire-starting women – and their daily lives behind the barricades, and examining the ramifications of the Commune on the role of the state and sovereignty in France and modern Europe. Enthralling, evocative and deeply moving, this narrative account offers a full picture of a defining moment in the evolution of state terror and popular resistance.
John Merriman is Charles Seymour Professor of History at Yale University, where he teaches French and Modern European History. He received Yale's Harwood F. Byrnes/Richard B. Sewall Teaching Prize in 2000, and was awarded a Docteur Honoris Causa in France in 2002. His many books include Dynamite Club: How A Café Bombing Ignited the Age of Modern Terror (2009), Police Stories: Making the French State, 1815-1851 (2005), The Stones of Balazuc: A French Village in Time (2002), A History of Modern Europe since the Renaissance (1996), The Margins of City Life: Explorations on the French Urban Frontier (1991) and The Agony of the Republic: The Repression of the Left in Revolutionary France, 1848-1851 (Yale, 1978).
'This blow-by-blow account of the rise and fall of 1871 Paris Commune is, at times, almost too painful to read.' - Gordon Parsons, Morning Star