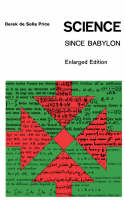 Format:

Paperback

Publication date:

10 Sep 1975

ISBN:

9780300017984

Imprint:

Dimensions:

232 pages: 203 x 127mm
Categories:
Professor Price has enlarged his widely known and influential study of science and the humanities to include much new material, extraordinarily broad in its range: from ancient automata, talismans and symbols, to the differences of modern science and technology. Science since Babylon is now more fascinating and useful than ever to anyone concerned with the humanistic understanding of science.
Originating in a series of five public lectures delivered under the auspices of the history department at Yale University in 1959, this book is an investigation of the circumstances and consequences of certain vital decisions relating to scientific crises which have the world to its present state of scientific and technological development. Not just another book on "History of Science," it is a plea, an exemplification for a whole new range of studies to take its place in the territory between the humanities and the sciences. The chapter on "Diseases of Science" has received much public attention as an analysis of the present structure and probable future of the organization of science. The author documents his study with accounts of his own researches in his specific fields of interest, relating them to the "crises" which he believes to be of paramount importance.
"Science Since Babylon, first published in 1961, is another tried and tested book brought up to date and enlarged. . . . Reviewers of the first edition called this a 'delightful book,' and so it is enlightening reading for the scientist and non-scientist alike."?Times Educational Supplement
"That Price's analysis and interpretations are timely is evident. The publishing of the newly enlarged edition provides the opportunity to read, or re-read, some of Price's most noteworthy essays and to once more reflect on the urgencies of a reasoned science policy for the U.S."?Intellect