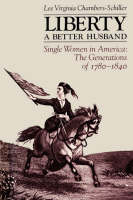 Liberty A Better Husband Single Women in America: The Generations of 1780-1840 Lee Virginia Chambers-Schiller
Format:

Hardback

Publication date:

18 Feb 1987

ISBN:

9780300039221

Imprint:

Dimensions:

304 pages: 235 x 156 x 16mm

Sales territories:

World
Categories:
"For liberty is a better husband than love to many of us."—Louisa May Alcott
This sensitive account focuses on the women who chose to remain single in antebellum America. Based on a study of the lives and writings of over one hundred Northeastern women, it describes the reasons why the rejected marriage and the joys and frustrations they encountered in adhering to the tenets of the cult of "Single Blessedness."
Lee Chambers-Schiller sketches the historical forces that allowed middle- and upper-class daughters to leave home in search of personal and economic independence, and she portrays the constrictions of married life from which these women fled. Single women found their own families to be sources of both pain and pleasure, for no matter what their age or position in the world, unmarried females remained daughters with dependent status, their lives continually shaped by the conflicting pulls of work and family. Yet these families—especially sister relationships—provided many of these women with love and intimacy. In fact, an extraordinary number of single sisters pursued join careers: the Weston sisters were activists in abolitionist causes; Emily and Elizabeth Blackwell both practiced medicine; Alice and Phoebe Cary became writers.
By demonstrating how these women asserted themselves as individuals, Chambers-Schiller presents them as among the first to articulate the value of female autonomy and as pioneers in expanding the boundaries of women's progress toward equality.