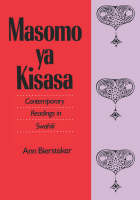 Series:

Format:

Hardback

Publication date:

10 Sep 1990

ISBN:

9780300047066

Imprint:

Dimensions:

480 pages: 254 x 178mm

Illustrations:

36 b-w illus.
Categories:
This intermediate-level textbook is designed to enable students to read and understand authentic texts in Swahili, the most widely spoken language in East and Central Africa. The book is unique among available Swahili readers in its use of contemporary passages, in its inclusion of texts on a range of topics from cooking and courtship manuals to politics and poetry, in the comprehensiveness of its grammatical and cultural notes, and in its emphasis on the development of communicative skills.
Each of the lessons begins with a reading, which is accompanied by glosses in Swahili that define the vocabulary of each passage. The lessons include grammatical notes that discuss the more complex structures of Swahili, cultural notes that provide both background information on issues and references to other sources on the reading topic, graded questions to assess comprehension, and suggested class activities to facilitate conversational interaction and foster the development of pragmatic and cultural skills. Each lesson is illustrated with an appropriate sketch or photograph. An extensive glossary is provided at the end of the book.
The book provides a transition to unassisted reading of original Swahili texts such as newspapers, popular magazines, government documents, and technical materials. It is also a helpful and enjoyable tool for classroom or independent use.
"The scope of this textbook . . . is to enable students of Swahili to read and to understand authentic texts. . . . The 31 texts, which make up the main portion of the textbook, consist of newspaper articles, official notes, and cooking recipes; poems and prose texts of well-known Swahili writers have also been included. . . . Since the different Swahili areas in Eastern Africa cannot be easily compared to one another, the user will appreciate the fact that both the Swahili culture on the Northern Coast of Kenya and the other areas in which Swahili has been introduced only in this century (e.g. some regions in Tanzania) have been taken into account. . . . This textbook makes an excellent impression with respect to the care that was obviously taken in choosing the texts and the didactic skill of the authors. It will be of great assistance to any serious student of Swahili."?Reinhard Klein-Arendt, Word