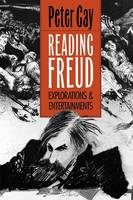 Reading Freud Explorations and Entertainments Peter Gay
Format:

Paperback

Publication date:

10 Sep 1991

ISBN:

9780300051278

Imprint:

Dimensions:

240 pages: 235 x 156mm
Categories:
"As every biographer of Freud must ruefully acknowledge, Freud, that great unriddler of mysteries, left behind some intriguing private mysteries of his own.  It was because I hoped to solve some of these mysteries that the stratagem of finding my way to Freud by indirections commended itself to me." –Peter Gay
In this book, the eminent cultural historian and Freud scholar Peter Gay presents a series of essays in which he tries to "reduce the blank spots on the map we now have of Freud's mind."  Engaging as well as illuminating, the essays range from reflections on Freud and Shakespeare to Gay's controversial spoof review of Freud's The Interpretation of Dreams.
The book begins with "Freud and the Man from Stratford," in which Gay describes Freud's fascination with the theory that the Earl of Oxford was the real author of the plays attributed to Shakespeare and speculates on the reasons for Freud's belief.  "Six Names in Search of an interpretation" considers Freud's choices of names for his six children and what they revealed about his Jewishness, his love of science, and his ambivalent feelings toward his father.  "Freud on Freedom" deals with the issue of determinism and free will in Freud's work.  "Reading Freud through Freud's Reading" analyzes ten "good" books Freud identified in response to a questionnaire.  
The second half of the book, entitled "Entertainments," includes an essay on "Serious Jests" that cites some vintage Jewish jokes frequently recounted by Freud and points out how these chestnuts illustrate not only psychoanalytic concepts but the anti-Semitism that permeated Freud's Vienna; the "review" of The Interpretation of Dreams, published in Harper's in 1981; "A Gentile Science?" which is a "report" on the work of one Sigmund Oberhufer, a fictitious Austrian doctor said to have "invented" psychoanalysis; and "The Dog That Did Not Bark in the Night," Gay's account of the newly accessible correspondence between Freud and his sister-in-law Minna Bernays, who some writers claim was his lover.  The essays, some of them published for the first time or expanded from their original versions, are accompanied by informative introductions.