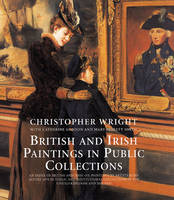 British and Irish Paintings in Public Collections Christopher Wright
Format:

Hardback

Publication date:

28 Jun 2006

ISBN:

9780300117301

Imprint:

Dimensions:

850 pages: 6299 x 7493mm
Categories:
This book sets a new standard as a work of reference. It covers British and Irish art in public collections from the beginning of the sixteenth century to the end of the nineteenth, and it encompasses nearly 9,000 painters and 90,000 paintings in more than 1,700 separate collections. The book includes as well pictures that are now lost, some as a consequence of the Second World War and others because of de-accessioning, mostly from 1950 to about 1975 when Victorian art was out of fashion.
By listing many tens of thousands of previously unpublished works, including around 13,000 which do not yet have any form of attribution, this book becomes a unique and indispensable work of reference, one that will transform the study of British and Irish painting.
Christopher Wright is a freelance art historian.