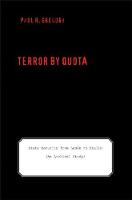 Terror by Quota State Security from Lenin to Stalin (an Archival Study) Paul R. Gregory
Series:

Format:

Hardback

Publication date:

06 Jan 2009

ISBN:

9780300134254

Imprint:

Dimensions:

360 pages: 235 x 156 x 27mm

Illustrations:

28 b-w illus.

Sales territories:

World
Categories:
This original analysis of the workings of Soviet state security organs under Lenin and Stalin addresses a series of questions that have long resisted satisfactory answers. Why did political repression affect so many people, most of them ordinary citizens? Why did repression come in waves or cycles? Why were economic and petty crimes regarded as political crimes? What was the reason for relying on extra-judicial tribunals? And what motivated the extreme harshness of punishments, including the widespread use of the death penalty?
Through an approach that synthesizes history and economics, Paul Gregory develops systematic explanations for the way terror was applied, how terror agents were recruited, how they carried out their jobs, and how they were motivated. The book draws on extensive, recently opened archives of the Gulag administration, the Politburo, and state security agencies themselves to illuminate in new ways terror and repression in the Soviet Union as well as dictatorships in other times and places.
Paul Gregory is Cullen Distinguished Professor of Economics, University of Houston. As a research fellow at the Hoover Institution, he directs the Soviet Archives Working Group. He lives in Bellaire, TX.
"This book, the first to focus on the 'working arrangements' of security agencies under Stalin, unlocks a number of issues in Soviet history that have until now been classified as instances of the dictator's irrationality or excess."—Mark Harrison, University of Warwick
"In the vast and growing literature on Stalinism, this text stands out not only due to the extensive coverage of a complex subject matter but also due to its unique methodology. Paul Gregory applies the rational-choice paradigm to the policies, and, in particular, the infamous Great Terror of 1937-1938. This important study improves our understanding of dictatorship and broadens the scope of historical economic analysis in general."—Valery Lazarev, University of Houston and Hoover Institution