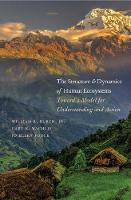 The Structure and Dynamics of Human Ecosystems Toward a Model for Understanding and Action William R. Burch, Gary Machlis, Jo Ellen Force
Format:

Hardback

Publication date:

24 Oct 2017

ISBN:

9780300137033

Imprint:

Dimensions:

312 pages: 235 x 156 x 27mm

Illustrations:

14 b-w illus.
Categories:
A landmark book that strives to provide both grand theory and practical application, innovatively describing the structure and dynamics of human ecosystems

As the world faces ever more complex and demanding environmental and social challenges, the need for interdisciplinary models and practical guidance becomes acute. The Human Ecosystem Model described in this landmark book provides an innovative response. Broad in scope, detailed in method, at once theoretical and applied, this grand study offers an in-depth understanding of human ecosystems and tools for action. The authors draw from Goethe's Faust, classic anthropology and sociology studies, contemporary ecosystem ecology, Buddhist ethics, and more to create a seminal model and a major advance in interdisciplinary ecology.
William R. Burch, Jr., is professor emeritus at the Yale School of Forestry and Environmental Studies. Gary E. Machlis is university professor of environmental sustainability at Clemson University. Jo Ellen Force is a professor in the College of Natural Resources at the University of Idaho.
Winner of the Outstanding Academic Title for 2018 award sponsored by Choice
 
"An in-depth, comprehensive description of the human ecosystem model . . . Highly original and based on years of pioneering scholarship in the field."—Frederick Steiner, Dean, University of Pennsylvania School of Design
"A revelation that truly integrates human behavior with ecosystems, The Structure and Dynamics of Human Ecosystems illuminates the path to sustainability."—Thomas E. Lovejoy, University Professor of Environmental Science and Policy, George Mason University; Science Envoy, Department of State
"This highly original work should be not just read, but fully absorbed by anyone seeking to deepen their understanding of the current and future pathways of the human condition. Offering both a model and practical case studies of human interaction within the ecological realities and complexities imposed by the natural world, this volume guides readers seeking to contribute to the economic and ecological re-balancing of the human endeavor."—Healy Hamilton, Chief Scientist, NatureServe
"This book argues that ecosystems include people, a concept that is one of the most important scientific developments in the last thirty years. Thus begins the journey of reintegrating people and nature into a sustainable union."—Bernard Bormann, Professor of Forest Ecology and Director of the Olympic Natural Resources Center, University of Washington
"This fine new book embraces the complexity of human and environmental challenges, offering a framework for study and then putting it to the test with real world examples. The result is insightful, though provoking, and determinedly hopeful."—Thor Hanson, author of The Triumph of Seeds