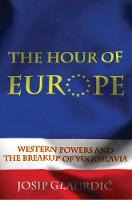 The Hour of Europe Western Powers and the Breakup of Yugoslavia Josip Glaurdic
Format:

Hardback

Publication date:

06 Dec 2011

ISBN:

9780300166293

Imprint:

Dimensions:

432 pages: 235 x 156 x 29mm

Illustrations:

4 b-w illus.

Sales territories:

World
Categories:
By looking through the prism of the West's involvement in the breakup of Yugoslavia, this book presents a new examination of the end of the Cold War in Europe. Incorporating declassified documents from the CIA, the administration of George H.W. Bush, and the British Foreign Office; evidence generated by The Hague Tribunal; and more than forty personal interviews with former diplomats and policy makers, Glaurdić exposes how the realist policies of the Western powers failed to prop up Yugoslavia's continuing existence as intended, and instead encouraged the Yugoslav Army and the Serbian regime of Slobodan Milošević to pursue violent means.
The book also sheds light on the dramatic clash of opinions within the Western alliance regarding how to respond to the crisis. Glaurdić traces the origins of this clash in the Western powers' different preferences regarding the roles of Germany, Eastern Europe, and foreign and security policy in the future of European integration. With subtlety and acute insight, The Hour of Europe provides a fresh understanding of events that continue to influence the shape of the post–Cold War Balkans and the whole of Europe.
Josip Glaurdić received his Ph.D. from Yale and is junior research fellow at Clare College, University of Cambridge. He divides his time between Cambridge, UK, and Münster, Germany.
"impressively researched, well written, carefully documented and closely reasoned." Survival

"This is the best serious, comprehensive, scholarly analysis of the role of the West - specifically, of the US, European Community and UN - in the break-up of Yugoslavia."—Marko Attila Hoare, Greater Surbiton (Online Blog)