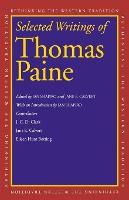 Series:

Format:

Paperback

Publication date:

25 Nov 2014

ISBN:

9780300167450

Imprint:

Dimensions:

720 pages: 210 x 140 x 37mm

Sales territories:

World
Categories:
A central figure in Western history and American political thought, Thomas Paine continues to provoke debate among politicians, activists, and scholars.  People of all ideological stripes are inspired by his trenchant defense of the rights and good sense of ordinary individuals, and his penetrating critiques of arbitrary power.
 
This volume contains Paine's explosive Common Sense in its entirety, including the oft-ignored Appendix, as well as selections from his other major writings: The American Crisis, Rights of Man, and The Age of Reason.  It also contains several of Paine's shorter essays. All the documents have been transcribed directly from the originals, making this edition the most reliable one available. Essays by Ian Shapiro, Jonathan Clark, Jane Calvert, and Eileen Hunt Botting bring Paine into sharp focus, illuminating his place in the tumultuous decades surrounding the American and French Revolutions and his larger historical legacy.
Jane E. Calvert is Associate Professor of History at the University of Kentucky and Director and Chief Editor of the John Dickinson Writings Project. Ian Shapiro is Sterling Professor of Political Science at Yale University, where he also serves as Henry R. Luce Director of the MacMillan Center for International and Area Studies.
"This book provides a critical evaluation of Paine, treating both his ideas and rhetoric seriously.  The authors refuse to diminish him as a second-rate intellectual, nor do they merely celebrate him as the American apostle of the democratic creed.  The book brings Paine up-to-date with the current historical scholarship, evaluating him as a creature of his political culture—not a timeless prophet."—Nancy Isenberg, co-author of Madison and Jefferson
"This invaluable edition presents a very broad and illuminating range of the works of the most politically effective writer to respond to France's and America's Revolutions, with a powerful introductory presentation of what gave Paine his striking polemical potency, and an especially helpful set of concluding essays which place him in the main historical contexts which formed him and which he changed so drastically. "--John Dunn, University of Cambridge
"Thomas Paine's 'Common Sense' has a strong claim to be the most influential political pamphlet in human history. His other writings are extraordinarily revealing about the era of the American and French Revolutions and politically radical Enlightenment thought. To grasp Paine's significance, these selections from his major works, and the illuminating accompanying essays by leading scholars, are the best place to start."—Rogers M. Smith, University of Pennsylvania
"This volume is a gold-mine for students of history, political thought, democracy, and revolution. It presents an excellent selection of the best and most explosive writings of the world's first great democratic writer, Thomas Paine. The introduction and supporting essays are as valuable as Paine's texts, setting his work in a variety of contexts. The book is ideal for classroom use, academic study, or just plain reading by anyone interested in democracy and its possibilities. With the publication of this fine compilation, Thomas Paine's thought lives again."—R. B. Bernstein, Lecturer in Political Science, CCNY, and author of Thomas Jefferson and The Founding Fathers Reconsidered
"The volume has much to recommend it. . . . All of Paine's major tracts are included. . . .The introduction and all three interpretive essays sparkle with insights."—Drew McClag, The University Bookman