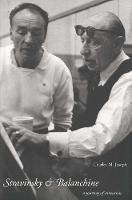 Format:

Paperback

Publication date:

15 Apr 2011

ISBN:

9780300176971

Imprint:

Dimensions:

464 pages: 229 x 152mm

Illustrations:

39 b-w illus.

Sales territories:

World
Igor Stravinsky and George Balanchine, among the most influential artists of the twentieth century, together created the music and movement for many ballet masterpieces. This engrossing book is the first full-length study of one of the greatest artistic collaborations in history.

Drawing on extensive new research, Charles M. Joseph discusses the Stravinsky-Balanchine ballets against a rich contextual backdrop. He explores the background and psychology of the two men, the dynamics of their interactions, their personal and professional similarities and differences, and the political and historical circumstances that conditioned their work. He describes the dancers, designers, and sponsors with whom they worked. He explains the two men's approach to the creative process and the genesis of each of the collaborative ballets, demolishing much received wisdom on the subject. And he analyzes selected sections of music and dance, providing examples of Stravinsky's working sketches and other helpful illustrative materials. Engagingly written, the book will be of great interest not only to music and dance historians but also to ballet lovers everywhere.


?The strengths of this book . . . come from the author?s love and understanding of Stravinsky?s and Balanchine?s works. . . . The analyses offered here make this and important book for anyone interested in either artist.??George Dorris, Dance Chronicle
?The book is written with exemplary clarity, and it is highly original, enjoyable to read, and genuinely interdisciplinary. There is both a music and a dance readership for it.??Stephanie Jordan, Roehampton University of Surrey
?The book is a thoughtfully crafted tribute to the extraordinary working relationship of two geniuses of the modern era. A must for dance and music students, scholars and aficionados.??Publishers Weekly
?Masterly. . . . As beautifully as he tells the story, Joseph?s greatest contribution is his close analysis of Stravinsky?s scores and Balanchine?s choreographic responses to them. . . . Joseph, a master of an elegant and refreshingly courteous prose . . . has written a generous book that partakes of the intelligence, reticence and wit of the Stravinsky-Balanchine collaboration itself. Most of all, he has understood the importance of these two men?s art, an art of exiles, central to a century of war and dislocation.??Elizabeth Kendall, New York Times Book Review
?This is a serious study of the works that these two created and of their individual lives. . . . For fans of the ballet this is a wonderful study to include in your bookcase. . . . You can follow the intricacies involved in mounting the productions that combined some of the greatest music and most beautiful dance ever put together. . . . The book is excellent.??Maggie Ramirez, Rainbo Electronic Reviews
"[A] fine, essential book."?Jay Rogoff, Village Voice
"As Joseph clearly demonstrates, most central to the Stravinsky/Balanchine collaboration was a mutual artistic respect and a commitment to invention and evolution, and his book represents a significant contribution to our understanding of that partnership."?Eowyn May McHenry, Profile Magazine
?This book offers an extensive choreographic contextualization of Stravinsky?s music and a comprehensive explication of the musical structures underlying Balanchine?s choreographies?a significant contribution to our understanding of the choreographer.??Marta Robertson, Notes
?The story is a fascinating one, and Joseph?s lucid, limber writing makes it all the more so.??Marian Smith, Slavic Review
?Joseph covers the musical aspect of Balanchine?s artistic gift more than most authors and this is quite enlightening. Musicians and dancers will both enjoy this book and learn from it.??Judith Hatcher, Dancer
Winner of the 2003 ASCAP-Deems Taylor Award in the Symphonic Books category awarded by the American Society of Composers, Authors and Publishers