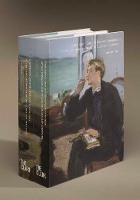 Nineteenth-Century European Paintings at the Sterling and Francine Clark Art Institute Sarah Lees, Richard Rand
Format:

Hardback

Publication date:

15 Jan 2013

ISBN:

9780300179651

Imprint:

Dimensions:

1008 pages: 305 x 229mm

Illustrations:

487 color + 31 b-w illus.

Sales territories:

 World
The core of the Clark's collection was assembled by Robert Sterling Clark (1877-1956), who once declared, "I like all kinds of art if it is good of its kind". This monumental, two-volume publication is the first fully-documented catalogue of European painting from the Institute's permanent collection. The quality of this collection reflects the founder's philosophy in its inclusion of masterpieces as diverse as William-Adolphe Bouguereau's Nymphs and Satyr (1873) and Pierre-Auguste Renoir's A Box at the Theatre (1874); works by academic painters such as Jean-Leon Gerome; Barbizon painters such as Camille Corot and Jean-Francois Millet; and the Impressionists Camille Pissarro and Edgar Degas. More recent acquisitions include Theodore Rousseau's Farm in the Landes (1844-67) and Claude Monet's Rouen Cathedral (1894), and works by John Constable and J. M. W. Turner.
Published on the 100th anniversary of Sterling Clark's first purchase of a European painting, these handsome volumes document each of the 374 paintings in the collection, with essays by prominent scholars, detailed bibliographic and art historical apparatus, technical notes, and over 450 colour illustrations.

Sarah Lees is associate curator of European art and Richard Rand is the Robert and Martha Berman Lipp Senior Curator, both at the Sterling and Francine Clark Art Institute. Sandra L. Webber is Conservator of Paintings at the Williamstown Art Conservation Center.
Winner of the 2012 George Wittenborn Memorial Book Award presented by Art Libraries Society of North America.
"The present catalogue, a monumental two-volume publication, [brings] a seriousness and thoroughness that should set a standard for other museums for years to come. . .This catalogue represents a monumental achievement which, in an ideal world, would serve as a model for all such publications of its type; the expense and sheer amount of work such an undertaking requires unfortunately means that it will probably find fewer imitators than it ought. Nevertheless, it is essential reading for all students of the period, from scholars of Impressionism and the Barbizon school to those whose interest in the nineteenth century is all-encompassing."—Rachel Sloan, Burlington Magazine