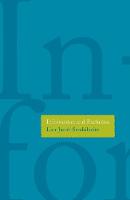 Format:

Paperback

Publication date:

13 Jun 2011

ISBN:

9780300189278

Imprint:

Dimensions:

272 pages: 229 x 152 x 24mm

Sales territories:

World
Categories:
Nearly all communities are exclusive in some way. When race or wealth is the basis of exclusion, the homogeneity of a neighborhood, workplace, or congregation is controversial. In other instances, as with an artist's colony or a French language book club, exclusivity is tolerable or even laudable. In this engaging book, Lior Strahilevitz introduces a new theory for understanding how exclusivity is created and maintained in residential, workplace, and social settings, one that emphasizes information's role in facilitating exclusion.
The book provides many colorful examples to show how lawmakers frequently misunderstand the subtle mechanics of exclusion, leaving enormous loopholes in the law. Strahilevitz focuses particular attention on today's changing dynamics of exclusion and discusses how technology presents new opportunities for governments to stamp out the most offensive exclusionary behaviors.
Lior Jacob Strahilevitz is Deputy Dean and Professor of Law at the University of Chicago Law School, where he has taught since 2002.
"A wide-reaching intellectual tour de force. In this book, Lior Strahilevitz brilliantly examines the mechanisms that individuals use to promote exclusivity, the role of the law in this process, and the extent to which intervention should be considered normatively appropriate. Along the way, the fortunate reader of Information and Exclusion will learn much about property law, information economics, virtual communities, and the puzzling decision of some non-golfers to buy homes on golf courses."—Paul M. Schwartz, Professor of Law and Director of the Berkeley Center for Law & Technology Berkeley Law School
"This book insightfully explores the implications of ever increasing amounts and availability of information for exclusionary strategies people use in settings ranging from the concrete residential communities to social networks. It is certain to provoke valuable discussions about a wide range of pressing issues involving information in the areas of property, antidiscrimination, and privacy.
"—Henry Smith, Harvard Law School
"In this engaging book at the intersection of property, privacy, and information, Strahilevitz skillfully explores the varieties of exclusion at work in a wide range of social contexts. In the process, he illuminates unappreciated costs and virtues, both of exclusion and of the law's attempts to regulate it."—Eduardo Peñalver, Cornell University