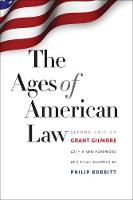 Series:

Format:

Paperback

Publication date:

11 Dec 2014

ISBN:

9780300189919

Imprint:

Dimensions:

248 pages: 210 x 140 x 14mm

Sales territories:

World
Categories:
Following its publication in 1974, Grant Gilmore's compact portrait of the development of American law from the eighteenth century to the mid-twentieth century became a classic. In this new edition, the portrait is brought up to date with a new chapter by Philip Bobbitt that surveys the trajectory of American law since the original publication. Bobbitt also provides a Foreword on Gilmore and the celebrated lectures that inspired The Ages of American Law.
 
 "Sharp, opinionated, and as pungent as cheddar."—New Republic
 
"This book has the engaging qualities of good table talk among a group of sophisticated and educated friends—given body by broad learning and a keen imagination and spiced with wit."—Willard Hurst
Grant Gilmore (1910–1982) was Sterling Professor of Law at Yale Law School. Philip Bobbitt is the Herbert Wechsler Professor of Jurisprudence at Columbia University. He lives in New York.
"An exciting and lively little intellectual history of American law. Blessed with a clean and lean style, Gilmore condenses the sweep of centuries, putting movements and individual heroes into perspective."—New York Law Journal