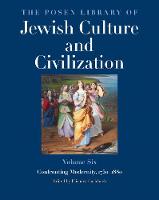 The Posen Library of Jewish Culture and Civilization Volume 6, Confronting Modernity, 1750-1880 Elisheva Carlebach, Deborah Dash Moore
Series:

Format:

Hardback

Publication date:

14 Jan 2020

ISBN:

9780300190007

Imprint:

Dimensions:

600 pages: 254 x 203mm

Illustrations:

133 color + 59 b-w illus.
Categories:
A landmark project to collect, translate, and transmit primary material from a momentous period in Jewish culture and civilization

This volume covers what Elisheva Carlebach describes as a period "in which every aspect of Jewish life underwent the most profound changes to have occurred since antiquity." Organized by genre, this extensive yet accessible volume surveys Jewish cultural productions and intellectual innovations during these dramatic years, particularly in literature, the visual and performing arts, and intellectual culture. The wide-ranging collection includes a diverse selection of sources created by Jews around the world, translated from a dozen languages. During a tumultuous time of changing borders, demographic shifts, and significant Jewish migration, this anthology explores the approaches of Jews to the intertwining ideals of enlightenment and emancipation, "the very foundation of Jewish experience in this period."
Elisheva Carlebach is the Salo Wittmayer Baron Professor of Jewish History, Culture, and Society at Columbia University, where she is also the director of the Institute for Israel and Jewish Studies. She is the author of several books, including Palaces of Time: Jewish Calendar and Culture in Early Modern Europe.
"A spectacular array of sources, capturing the many facets of Jewish cultural creativity during a tumultuous era."—Glenn Dynner, author of Yankel's Tavern: Jews, Liquor, & Life in the Kingdom of Poland

 
"Reflects almost all important aspects of Jewish civilization and culture in the eighteenth and nineteenth centuries."—Gershon Hundert, McGill University
"The introduction offers a masterful and elegant synthesis."—Francesca Trivellato, Institute for Advanced Study
David G. Roskies

£22.00

Amos Oz

£9.99

Deborah Dash Moore

£130.00