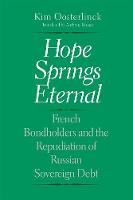 Hope Springs Eternal French Bondholders and the Repudiation of Russian Sovereign Debt Kim Oosterlinck, Anthony Bulger
Series:

Format:

Hardback

Publication date:

24 May 2016

ISBN:

9780300190915

Imprint:

Dimensions:

264 pages: 235 x 156 x 21mm

Illustrations:

4 b-w illus.
In 1918, the Soviet revolutionary government repudiated the Tsarist regime's sovereign debt, triggering one of the biggest sovereign defaults ever. Yet the price of Russian bonds remained high for years. Combing French archival records, Kim Oosterlinck shows that, far from irrational, investors had legitimate reasons to hope for repayment. Soviet debt recognition, a change in government, a bailout by the French government, or French banks, or a seceding country would have guaranteed at least a partial reimbursement. As Greece and other European countries raise the possibility of sovereign default, Oosterlinck's superbly researched study is more urgent than ever.
Kim Oosterlinck is professor of finance at the Solvay Brussels School of Economics and Management, Université libre de Bruxelles. He lives in Brussels, Belgium.
"Sovereign debt and default are back in the news.  As Kim Ooosterlinck reminds us in his important book, this should not be a surprise.  Earlier defaults, like those of the Bolsheviks, have cast a long shadow. There is much food for thought here for financial historians and financial market participants alike."—Barry Eichengreen, George C. Pardee and Helen N. Pardee Professor of Economics and Political Science, University of California, Berkeley
"Financial markets are often castigated for having short memory. This book shows that actually hope trumps memory. The history of the 1917 Soviet repudiation of Russian debts is a breathtaking illustration of how markets price political risk, bailout expectations and the effect of sanctions on defaulters. This is an absolute must-read for policymakers, professional investors, researchers or simple observers of the recent financial crisis."--Rui Esteves, University of Oxford