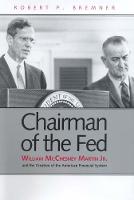 Chairman of the Fed William McChesney Martin Jr. and the Creation of the Modern American Financial System Robert P. Bremner
Format:

Paperback

Publication date:

08 Nov 2004

ISBN:

9780300191387

Imprint:

Dimensions:

374 pages: 229 x 152mm

Sales territories:

World
Categories:
This is the first biography of William McChesney Martin, Jr. (1906-1998), the first paid president of the New York Stock Exchange and the chairman of the Federal Reserve System under Presidents Truman to Nixon. The extent of Martin's influence on the course of American economic history was significant: arguably he has done more to strengthen and reform the nation's most important financial institutions than has any other individual.
Chairman of the Fed tells Martin's fascinating life story and explains his lasting impact on the NYSE and the Fed, both troubled institutions that Martin transformed. The book provides an inside look into the economic deliberations of five presidential administrations and describes Martin's battles to bring about ethical and intelligent regulation of U.S. financial markets. His experiences shed light not only on the evolution of the American financial system but also on critical issues that confront the system today.
Robert P. Bremner has held positions in the World Bank and the investment banking industry. He is a former small business owner and currently serves as a public trustee for a large mutual fund management company.
?Creation of the modern Federal Reserve System is, to a very considerable extent, the work of William McChesney Martin, Jr. Robert Bremner?s book brings out the character, conviction, courage, and collegiality that Martin brought to this historic achievement.??Allan H Meltzer, author of A History of the Federal Reserve and Professor of Political Economy, Carnegie Mellon University
"Chairman of the Fed is a fascinating and immensely readable chronicle of the professional life of William McChesney Martin, who battled five US Presidents to preserve the independence and integrity of the world's most influential central bank. The story of how this good natured, tennis playing banker restored the reputation of the Fed and reformed the tarnished image of the New York Stock Exchange (an institution he headed before coming to Washington) provides extraordinary insights and wonderful anecdotes that give broad perspective to an era of financial turmoil and change."?Arthur Levitt, Former Chairman, Securities and Exchange Commission
"My friend, Bill Martin, was one of the premier central bankers of the 20th century. Bob Bremner?s truly excellent biography provides a clear and accurate picture of this great public servant."?Charls E. Walker, Former Deputy Secretary of the Treasury
?No institution in modern American life is more important to the economy than the Federal Reserve, and no one was more important in shaping the modern Federal Reserve than William McChesney Martin. Robert P. Bremner has written the definitive biography of this giant, and it?s must reading for understanding how the Fed has evolved?and for grasping the historical forces shaping its future.??Donald F. Kettl, Stanley I. Sheerr Endowed Term Professor in the Social Sciences at the University of Pennsylvania
"Whatever your definition of a ?great american,? Bill Martin meets it. He passed effortlessly from floor broker on the NYSE to its first professional paid president, became the only Wall Streeter to enter the Army as a private in World War II, [helped] negotiate the end of lend lease with Russia, created while Assistant Secretary of the Treasury, the document that established the independence of the Federal Reserve System, then served 18 years as the Fed?s Chairman, playing tennis just about every day. A one-of-a-kind narrative."?Martin Mayer, author of The Fed: The Inside Story of How the World?s Most Powerful Financial Institution Drives the Markets
"Bill Martin was a hero to a generation of central bankers including me. In almost twenty years as chairman of the Federal Reserve, he set a standard for integrity, judgment, and independence that has served that institution and the nation superbly well. He did it in a style that commanded the friendship and loyalty of a wide circle of leaders here and abroad. This biography, long overdue, finally does justice to a great man."?Paul A. Volcker, Chairman of the Federal Reserve Board, 1979-1987
"This book is a welcome and important addition to existing work on the history of the Federal Reserve. Economists interested in how central bank independence works will find many useful insights in its pages, and all readers will find inspiration in this story of a life dedicated to public service."?John T. Woolley, Business History Review
"Exceptionally well written volume. . . . Based on extensive archival work, this biography of Martin reveals a career of public service rarely matched in American history. Highly recommended."?Choice
?An important look at a defining figure in America?s road to economic dominance and stability.??Thomas J. Brady, Philadelphia Inquirer
?This richly detailed, fascinating history of a professional life virtually defines a bygone ideal of public service. . . . Bremner?s book justly celebrates the invaluable, long-lasting effects of his overarching plan to establish the Fed?s function in coordinated economic policy making.??Publishers Weekly
"Chairman of the Fed begs to be read at multi-levels. . . . [An] authoritative and fascinating account."?Mark Toma, EH.Net