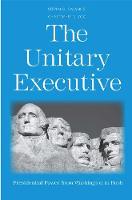 Format:

Paperback

Publication date:

28 Sep 2012

ISBN:

9780300191394

Imprint:

Dimensions:

558 pages: 229 x 152 x 39mm

Sales territories:

World
Categories:
This book is the first to undertake a detailed historical and legal examination of presidential power and the theory of the unitary executive. This theory—that the Constitution gives the president the power to remove and control all policy-making subordinates in the executive branch—has been the subject of heated debate since the Reagan years. To determine whether the Constitution creates a strongly unitary executive, Steven G. Calabresi and Christopher S. Yoo look at the actual practice of all forty-three presidential administrations, from George Washington to George W. Bush. They argue that all presidents have been committed proponents of the theory of the unitary executive, and they explore the meaning and implications of this finding.
Steven G. Calabresi is professor of law, Northwestern University, and co-founder of the Federalist Society. He lives in Providence RI. Christopher S. Yoo is professor of law, University of Pennsylvania Law School. He lives in Penn Valley, PA.
?This is a rigorous, fair-minded, and in important respects innovative survey of presidential practice concerning executive power. It is an invaluable resource for any scholar interested in the structural Constitution.??Gary Lawson, Boston University School of Law
?Calabresi and Yoo have authored an invaluable and comprehensive account of disputes about the President's power over law execution. They demonstrate that Presidents have consistently asserted control over law execution and that Congresses have long challenged the idea of a unitary executive. Those interested in the constitutionality of attempts to insulate law execution from presidential superintendence will find the book a must read.??Saikrishna Prakash, Herzog Research Professor of Law, University of San Diego
"This is a very important book with rich historical detail, and it has already become profoundly influential."?Philip Hamburger, Columbia Law School
"A praiseworthy exercise."—Michael M. Uhlmann, Claremont Review of Books