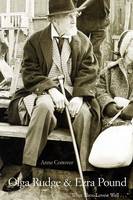 Olga Rudge & Ezra Pound "What Thou Lovest Well . . ." Anne Conover
Format:

Paperback

Publication date:

01 Oct 2001

ISBN:

9780300191424

Imprint:

Dimensions:

368 pages: 229 x 152mm

Illustrations:

21 b-w illus.

Sales territories:

World
A loving and admiring companion for half a century to literary titan Ezra Pound, concert violinist Olga Rudge was the muse who inspired the poet to complete his epic poem, The Cantos, and the mother of his only daughter, Mary. Strong-minded and defiant of conventions, Rudge knew the best and worst of times with Pound. With him, she coped with the wrenching dislocations brought about by two catastrophic world wars and experienced modernism's radical transformation of the arts.

In this enlightening biography, Anne Conover offers a full portrait of Olga Rudge (1895–1996), drawing for the first time on Rudge's extensive unpublished personal notebooks and correspondence. Conover explores Rudge's relationship with Pound, her influence on his life and career, and her perspective on many details of his controversial life, as well as her own musical career as a violinist and musicologist and a key figure in the revival of Vivaldi's music in the 1930s. In addition to mining documentary sources, the author interviewed Rudge and family members and friends. The result is a vivid account of a highly intelligent and talented woman and the controversial poet whose flame she tended to the end of her long life.

The book quotes extensively from the Rudge–Pound letters--an almost daily correspondence that began in the 1920s and continued until Pound's death in 1972. These letters shed light on many aspects of Pound's disturbing personality; the complicated and delicate balance he maintained between the two most significant women in his life, Olga and his wife Dorothy, for fifty years; the birth of Olga and Ezra's daughter Mary de Rachewiltz; Pound's alleged anti-Semitism and Fascist sympathies; his wartime broadcasts over Rome radio and indictment for treason; and his twelve-year incarceration in St. Elizabeth's Hospital for the mentally ill.

Anne Conover is an independent scholar and biographer currently living in Washington, D.C.

?This life of a woman of unusual talent and spirit, based on her unpublished letters, diaries, and notebooks, will intrigue the general reader and be a mine of information for the literary and cultural historian.??A. David Moody, author of Thomas Stearns Eliot: Poet
?An intimate glimpse, through diaries and letters into two complex personalities. Olga Rudge was not only Pound?s mistress and the mother of his child, but a concert violinist who altered her career to become Pound?s helpmate, and who nursed him through his final difficult years. Olga was the Circe to Pound?s Ulysses; his wife Dorothy was the Penelope.??William Pratt, Professor of English Emeritus, Miami University (Ohio)
?Anne Conover has unearthed plenty of insights into the daily life and thought of Ezra and those who surrounded him. [This book] documents the whole of Rudge?s long life with emphasis on all things Ezra. . . . Rudge?s 20th-century transcontinental existence as a violinist and musicologist holds interest for feminists and others with interest in the status of women in the arts.??Publishers Weekly
"Anne Conover, an independent scholar and biographer, tells the story of Olga?s life, including her earlier love affair with Egerton Grey, stylishly and with polish."?Colin Walters, Washington Times
?The result in Olga Rudge and Ezra Pound is true trail-blazing biography: the first life of this gifted and gallant woman; the first well-documented account of the historic liason that, for better and for worse, joined her to Pound for all of 50 years.??Barbara C. Eastman, Literary Review of Canada
?Anne Conover has written a book that Pound fans will be eager to acquire.??Michael Dirda, Washington Post Book World
?[A] comprehensive biography of an intriguing relationship.??Jonathan Bate, Sunday Telegraph
?Anne Conover has had access to Olga?s and Pound?s papers in the Beinecke Library at Yale. . . . She has made intelligent and cohesive sense of this treasure trove of letters, diaries, and the all-but-intractable mass of Poundian studies.??Guy Davenport, Harper?s Magazine