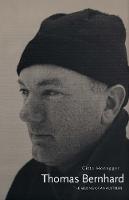 Thomas Bernhard The Making of an Austrian Gitta Honegger
Format:

Paperback

Publication date:

01 Nov 2001

ISBN:

9780300194609

Imprint:

Dimensions:

368 pages: 229 x 152mm

Illustrations:

44 b-w illus.

Sales territories:

World
Categories:
Thomas Bernhard (1931–1989), a literary figure of international acclaim and arguably Austria's greatest post–World War II writer, became the first of his generation to expose unrelentingly his country's pathological denial of complicity in the Holocaust. Bernhard's writings and indeed his own biography reflect Austria's fraught efforts to define itself as a nation following the collapse of the Habsburg monarchy and the trauma of World War II. Repeatedly he scandalized the nation with novels, plays, and public statements that exposed the convoluted ways Austrians were attempting to come to terms with their Nazi past—or defiantly avoiding doing so. This book, the first comprehensive biography of Thomas Bernhard in English, examines his life and work and their intricate relationship to Austria's geographical, political, and cultural transformations in the twentieth century.

While Bernhard was the scourge of his native culture, Honegger explains, he was also a product of that same culture. Appreciation of his controversial impact on his society is possible only through an understanding of the contradictions, the shame, and the achievements that mark Austrians' self-perception in the postwar years. Honegger shows that for Bernhard the theater was not only a profession but also a paradigm for his life, and that performance was the primary force animating his writing and self-construction. Even after his death, Bernhard's carefully constructed biography continues to fascinate, shock, and expose the Austrian culture at large.

Gitta Honegger is professor of theater and chair of the Department of Drama, Catholic University of America.

?Engaging, witty, informative, and lovingly ironic, this is an important book that will command the attention of all friends of recent literature and the theater.??Peter Demetz, Yale University
?Honegger?s postmodernist and psychoanalytical interpretation of Bernhard?s paradoxical life and obsessive art is altogether appropriate and effective.??Publishers Weekly
?Honegger compresses a great deal into this book, offering a solid survey of this very complex character, his challenging art, and the many games he played with the public (and with his friends). It is also a good introduction?and a useful companion volume?to his writing, especially for an audience that does not come to it steeped in Austria. Thomas Bernhard is certainly the best introduction to the author currently available in English.??The Complete Review
?Honegger has written a formidable portrait of a rich, contradictory culture?shedding light on its origins and intricacies, (including essential political underpinnings from the 1950s to the 1980s) by focusing on one of its literary masters.??Peter Rollberg, Washington Times
Winner of the 2004 Austrian Cultural Forum?s bi-annual book award