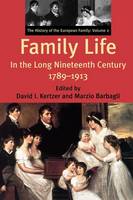 Family Life in the Long Nineteenth Century, 1789-1913 The History of the European Family: Volume 2 David I. Kertzer, Marzio Barbagli
Format:

Paperback

Publication date:

01 Apr 2002

ISBN:

9780300194845

Imprint:

Dimensions:

464 pages: 241 x 152mm

Illustrations:

39 b-w illus.
Categories:
This second of three extraordinary volumes on the history of the family in Europe focuses on family life and the forces that shaped it from the French Revolution to the First World War. The political and economic forces that transformed Europe in these years had a tremendous impact on family life. The contributors to the book examine the changing life experiences of ordinary people from a variety of perspectives and provide new keys to understanding the nature of the emerging modern European family.

How did industrialization, new technology, the growth of cities, and the revolution in transport and communication alter daily life? How did the family—the vital social unit that determined not only how and where people lived, but often where they worked—adapt to the demands of the new economy? The contributors explore these questions and more, illuminating the changes the nineteenth century brought about in the family and uncovering a fascinating diversity of family forms and family relations in different parts of Europe and distinguishing different social classes.


?The individual pieces contain such rich material that we are presented with a kaleidoscope of family life.??Lynn Abrams, Continuity and Change
?This well-researched collection looks at how families differed according to region and why and how family life changed during the period.??History Magazine
?These essays, taken together, will remake our view of family history in Europe and we look forward to the next two volumes.??The Contemporary Review
?[This] collection of essays . . . reveal the true complexity of family relations, rather than contenting themselves with simplistic interpretations of the past. This work by a group of international experts deserves wide readership. All collections.??Choice
"David Kertzer and Marzio Barbagli provide solid fare for those wanting to take stock of advances in the history of the European family. . . . The canvas is broad and the book draws on a huge range of more detailed studies to bring the reader fully up to date with thinking in the field."?Anthony Fletcher, History Today
"Excellent. . . . Reliable. . . . Readers will come away with an appreciation for the centrality of family life in the major transformations of Europe and welcome the generally clear writing and accessible summaries of scholarly controversies. The broad geographic coverage of Europe is remarkable, and the discussion of social groups and communities is very rich, but all the contributors provide memorable examples of individual experiences."?Choice
"[An] excellent and varied collection of scholarly essays."?Eamon Duffy, New York Review of Books
?This volume is an impressive set of wide-ranging essays that elucidates the multiple influences on the nineteenth-century family?from agrarian reform to changing cultural values. . . . The essays themselves provide fascinating discoveries.??Leslie Page Moch, The Journal of Interdisciplinary History
?Family Life in the Long Nineteenth Century examines the complexity and variability in the structures, practices, and conceptions of family life across Europe, assessing the degrees of continuity and change throughout the ?long nineteenth century.? . . . [This book] generally avoids these limitations and would work well both as a text for undergraduate classes and as an introduction to the diversity of research on the history of European family life.??Steven E. Rowe, The History of Education Quarterly
?The essays . . . summarize and synthesize a great deal of material extremely effectively. . . . Many could be read profitably by undergraduates interested in the topic.??Merry Wiesner-Hanks, Journal of Modern History
Chosen as a 2003 "Outstanding" Academic Title by Choice Magazine