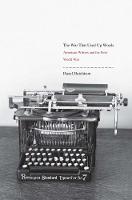 The War That Used Up Words American Writers and the First World War Hazel Hutchison
Format:

Hardback

Publication date:

14 May 2015

ISBN:

9780300195026

Imprint:

Dimensions:

304 pages: 235 x 156 x 27mm

Illustrations:

3 b-w illus.

Sales territories:

World
Categories:
In this provocative study, Hazel Hutchison takes a fresh look at the roles of American writers in helping to shape national opinion and policy during the First World War. From the war's opening salvos in Europe, American writers recognized the impact the war would have on their society and sought out new strategies to express their horror, support, or resignation. By focusing on the writings of Henry James, Edith Wharton, Grace Fallow Norton, Mary Borden, Ellen La Motte, E. E. Cummings, and John Dos Passos, Hutchison examines what it means to be a writer in wartime, particularly in the midst of a conflict characterized by censorship and propaganda. Drawing on original letters and manuscripts, some never before seen by researchers, this book explores how the essays, poetry, and novels of these seven literary figures influenced America's public view of events, from August 1914 through the Paris Peace Conference of 1919, and ultimately set the literary agenda for later, more celebrated texts about the war.
Hazel Hutchison teaches British and American literature at the University of Aberdeen. She is the author two previous works, Seeing and Believing: Henry James and the Spiritual World and Brief Lives: Henry James.
'Hutchison constructs a solid historical framework for the book, offering the reader a good understanding of how America's war differed from the European experience… This historical approach is set alongside detailed close reading and literary analyses of the writings, one of the book's greatest strengths… as an exploration of ''the ability of art to handle human experience'' it is very successful.'—Angela K. Smith, THES.
"[A] thoughtful and thought-provoking new study of American First World War literature… it is right to insist, as this fine book does, that witness-bearing is undiminished by taking sophisticated and scintillating forms."—Kate McLoughlin, TLS
"This book explores the struggle of American writers to make sense of a war that grew beyond their wildest expectations.  No American exceptionalism here; just perplexity, sadness and resignation at the degeneration of warfare into mass slaughter."—Jay Winter, Yale University
"The War That Used Up Words is a beautifully written reexamination of American writers in the midst of the Great War that persuasively challenges longstanding critical assumptions and forces us to rethink the literary history of the late 1910s. There isn't a single inelegant sentence." —Steven Trout, University of Southern Alabama
"Hutchison's scrutiny of the testimonies and literary engagements of American authors during the First World War: men and women, the elderly and the teenage, the familiar and the neglected is coupled with a surefooted description of changing US politics and public opinion as the war developed. She has researched this study meticulously."—Tim Kendall, University of Exeter