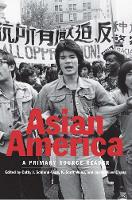 Format:

Paperback

Publication date:

03 Jan 2017

ISBN:

9780300195446

Imprint:

Dimensions:

336 pages: 235 x 156 x 19mm

Illustrations:

40 b-w illus.

Sales territories:

World
Categories:
An essential collection that brings together the core primary texts of the Asian American experience in one volume

"A vital, up-to-date collection of critical sources that shed new insight into the lives of diverse Asian Americans, past and present."—Erika Lee, author of The Making of Asian America: A History

An essential volume for the growing academic discipline of Asian American studies, this collection of core primary texts draws from a wide range of fields, from law to visual culture to politics, covering key historical and cultural developments that enable students to engage directly with the Asian American experience over the past century. The primary sources, organized around keywords, often concern multiple hemispheres and movements, making this compendium valuable for a number of historical, ethnic, and cultural study undergraduate programs.
Cathy J. Schlund‑Vials is professor of English and Asian American studies at the University of Connecticut. K. Scott Wong is the Charles R. Keller Professor of History at Williams College. Jason Oliver Chang is assistant professor of history and Asian American studies at the University of Connecticut.
"A superb collection of thought provoking writings that brilliantly capture the vast complexity that is 'Asian American.' This book is perfect for stimulating much-needed debates and should be essential reading for students of Asian American history."—Amy Chua, author of Battle Hymn of the Tiger Mother

"Truly, the book is much needed and long overdue, and I think it will immediately become an essential teaching text."—Jolie A. Sheffer, author of The Romance of Race: Incest, Miscegenation, and Multiculturalism in the United States, 1880-1930

"The editors' comprehensive collection of key documents, texts and images illuminates the diverse trajectories of Asian American history.  This volume will be an indispensible reference and an extremely valuable teaching tool."—Robert Lee, Brown University
"This book is a valuable resource for Asian American studies instructors seeking to introduce their students to several of the most important issues in the field."—Charlotte Brooks, Baruch College, CUNY

"Asian America is a vital, up-to-date collection of critical sources that shed new insight into the lives of diverse Asian Americans, past and present. Perfect for the classroom!"—Erika Lee, author of The Making of Asian America: A History

"This is a worthy and welcome endeavor. As the editors make clear, there is a definite need for a textbook that enables students to examine and grapple with primary documents connected to Asian American history."—Martin Joseph Ponce, author of Beyond the Nation: Diasporic Filipino Literature and Queer Reading
"What a smart resource for active learning! This assemblage of documents help us understand the hidden connections between peoples coming from such different places at different times. Critical archives such as this enable us to feel the aliveness of the past in the present."—John Kuo Wei Tchen, New York University