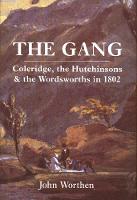 The Gang Coleridge, the Hutchinsons, and the Wordsworths in 1802 John Worthen
Format:

Paperback

Publication date:

01 Mar 2001

ISBN:

9780300197747

Imprint:

Dimensions:

352 pages: 235 x 156mm

Illustrations:

20 b-w illus.

Sales territories:

World
Categories:
"A Night or two after a worse Rogue there came, The head of the Gang, one Wordsworth by name . . ."—Coleridge, A Soliloquy of the full Moon, April 1802
Over a dramatic six-month period in 1802, William Wordsworth, S.T. Coleridge, Wordsworth's sister Dorothy, and the two Hutchinson sisters Sara and Mary formed a close-knit group whose members saw or wrote to one another constantly. Coleridge, whose marriage was collapsing, was in love with Sara, and Wordsworth was about to be married to Mary, who would be moving in beside Dorothy in their Grasmere cottage. Throughout this extraordinary period both poets worked on some of their finest and most familiar poems, Coleridge's Dejection: An Ode and Wordsworth's Immortality Ode. In this fascinating book, John Worthen recreates the group's intertwined lives and the effect they had on one another.
Drawing on the group's surviving letters, and poems, as well as Dorothy's diaries, Worthen throws new light on many old problems. He examines the prehistory of the events of 1802, the dynamics of the group between March and July, the summer of 1802, when Wordsworth and Dorothy visited Calais to see his ex-mistress and his daughter Caroline, and the wedding between Wordsworth and Mary in October of that year. In an epilogue he looks forward to the ways in which relationships changed during 1803, concentrating on a single day—11 January 1803—in the lives of the group.
?Worthen does a fine job balancing the personal with the critical and offers those who idolize [Wordsworth or Coleridge] much to consider.??Publishers Weekly
?Drawing upon surviving letters, poems, and diaries, Worthen examines the complex relationships of the family and close friends surrounding the collaboration of William Wordsworth and Samuel Taylor Coleridge in 1802?a period when both poets worked on some of their finest and most famous poems. . . . Recommended for academic, literary, and biography collections.??Library Journal
?Worthen?s analysis of this material is acute, critical, and perceptive. . . . The Gang is a fascinating and provocative book. . . . It should be compulsory reading for every biographer.??Juliet Barker, Atlantic Monthly
?This is the most important contribution to Wordsworth/Coleridge studies in many years. Known primarily as a D. H. Lawrence scholar, Worthen appears to have read and remembered everything ever written about Wordsworth and Coleridge in 1802, a year crucial in the lives of both men. . . . By devoting a substantial book to a single year in the lives of three families, Worthen is able to delve far more deeply than anyone before into the thoughts, feelings, and motives of the principals. . . . It is impossible to do justice to the range, complexity, and minuteness of Worthen?s volume in few words.??Choice
?Working from letters, diaries, and poems, John Worthen magnificently unravels the weave of emotion, excitement, and frustration that characterized the turning point of one of the most famously complex friendships in English letters.??Virginia Quarterly Review
?Worthen?s The Gang offers an intricate yet engrossing collective biography of the three families over the course of a momentous year.??James Eli Adams, Studies in English Literature
?Professor Worthen?s biography of a close-knit group that was of great significance in the history of English poetry . . . makes for absorbing reading and presents new insights and approaches to problems that have long bedeviled readers of these two great poets.??Benjamin Griffith, Sewanee Review
?The Gang offers a dense and vivid narrative. . . . Worthen is good not only at drawing out the textual intricacies but also at conveying the earthier side of Grasmere life.??Grevel Lindop, Times Literary Supplement
?A major contribution to Wordsworth?s and Coleridge?s biography. It gives a vivid sense of how the poems by these two poets came into being, the products not just of two men but of a remarkable gang.??George Soule, Magill?s Literary Annual
Selected by Choice as an Outstanding Academic title for 2001