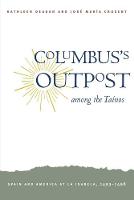 Columbus's Outpost among the Taínos Spain and America at La Isabela, 1493-1498 Kathleen Deagan, José María Cruxent
Format:

Paperback

Publication date:

05 Mar 2013

ISBN:

9780300197846

Imprint:

Dimensions:

304 pages: 235 x 156mm

Illustrations:

102 b-w illus.

Sales territories:

World
Categories:
In 1493 Christopher Columbus led a fleet of seventeen ships and more than twelve hundred men to found a royal trading colony in America. Columbus had high hopes for his settlement, which he named La Isabela after the queen of Spain, but just five years later it was in ruins. It remains important, however, as the first site of European settlement in America and the first place of sustained interaction between Europeans and the indigenous Taínos.

Kathleen Deagan and José María Cruxent now tell the story of this historic enterprise. Drawing on their ten-year archaeological investigation of the site of La Isabela, along with research into Columbus-era documents, they contrast Spanish expectations of America with the actual events and living conditions at America's first European town. Deagan and Cruxent argue that La Isabela failed not because Columbus was a poor planner but because his vision of America was grounded in European experience and could not be sustained in the face of the realities of American life. Explaining that the original Spanish economic and social frameworks for colonization had to be altered in America in response to the American landscape and the non-elite Spanish and Taíno people who occupied it, they shed light on larger questions of American colonialism and the development of Euro-American cultural identity.


Kathleen Deagan is Distinguished Research Curator at the Florida Museum of Natural History, University of Florida. José María Cruxent is professor emeritus at Universidad Nacional y Experimental Francisco de Miranda in Coro, Venezuela. They are also the coauthors of Archaeology at La Isabela: America's First European Town.

Thanks to the superlative efforts of Kathleen Deagan and José Maria Cruxent, the archaeology of La Isabela—one of America's most important sites—is now accessible to the world. Columbus's Outpost among the Taínos is destined to become a classic in the field of historical archaeology."—David Hurst Thomas, American Museum of Natural History



"La Isabela, founded by Columbus during his second voyage, was the first Spanish settlement in the New World. Kathleen Deagan and J.M. Cruxent are uniquely qualified to discuss this important event. Their book is based on sound scholarship and its style is clear and readable."—Irving Rouse, author of The Tainos: Rise and Decline of the People Who Greeted Columbus