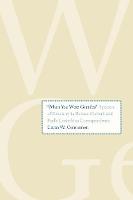 "When You Were Gentiles" Specters of Ethnicity in Roman Corinth and Paul's Corinthian Correspondence Cavan W. Concannon
Series:

Format:

Hardback

Publication date:

01 Jul 2014

ISBN:

9780300197938

Imprint:

Dimensions:

320 pages: 235 x 156 x 24mm

Illustrations:

12 b-w illus.
Categories:
Cavan W. Concannon makes a significant contribution to Pauline studies by imagining the responses of the Corinthians to Paul's letters. Based on surviving written materials and archaeological research, this book offers a textured portrait of the ancient Corinthians with whom Paul conversed, argued, debated, and partnered, focusing on issues of ethnicity, civic identity, politics, and empire. In doing so, the author provides readers a unique opportunity to assess anew, and imagine possibilities beyond, Paul's complicated legacy in shaping Western notions of race, ethnicity, and religion.
Cavan W. Concannon is currently visiting assistant professor in the Department of Religious Studies at Duke University.  He is a former ACLS New Faculty Fellow at Duke and Post Doctoral Fellow in Early Christianity at Macquarie University.

"When You Were Gentiles builds on and contributes to important recent work in New Testament (especially Pauline) studies, early Christian studies, as well as Classics and Ancient history more broadly. It will make significant contributions to our thinking about the rhetoric, self-imagining, and material practices of collective identifications in Roman antiquity."—Denise Kimber Buell, Williams College

"In "When You Were Gentiles", Concannon demonstrates that Paul's rhetoric of ethnicity tapped into the process of hybridity and identity formation that was a standard part of life in Corinth in the Roman imperial period.  The book's sophisticated interpretation of text and artifact revises our views of Paul's audience, Paul's letters to them, and the Corinthian matrix for their interactions."—Steven J. Friesen, The University of Texas at Austin
"An important and timely contribution, this book invites Paul and his talk of malleable and fixed ethnicity to linger among the archaeological and literary remains of Roman Corinth so that readers might conjure some of the ghostly Corinthians who shaped, misheard, and talked back to Paul in the context of a lively Corinthian assembly."—Melanie Johnson-DeBaufre, Drew Theological School

"Concannon expertly interweaves archaeological and historical evidence with insights of biblical scholarship to undergird his arguments . . . [his] book is a welcome and laudable effort to bring the ghost of Paul's Corinthians, if not back to life, to be heard again."—Dominik Wolff, Bryn Mawr Classical Review