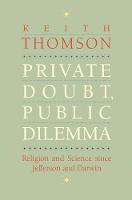 Private Doubt, Public Dilemma Religion and Science since Jefferson and Darwin Keith Stewart Thomson
Series:

Format:

Hardback

Publication date:

10 Jul 2015

ISBN:

9780300203677

Imprint:

Dimensions:

224 pages: 210 x 140 x 19mm

Sales territories:

World
Categories:
A distinguished scholar urges scientists and religious thinkers to become colleagues rather than adversaries in areas where their fields overlap

Each age has its own crisis—our modern experience of science-religion conflict is not so very different from that experienced by our forebears, Keith Thomson proposes in this thoughtful book. He considers the ideas and writings of Thomas Jefferson and Charles Darwin, two men who struggled mightily to reconcile their religion and their science, then looks to more recent times when scientific challenges to religion (evolutionary theory, for example) have given rise to powerful political responses from religious believers.
 
Today as in the eighteenth century, there are pressing reasons for members on each side of the religion-science debates to find common ground, Thomson contends. No precedent exists for shaping a response to issues like cloning or stem cell research, unheard of fifty years ago, and thus the opportunity arises for all sides to cooperate in creating a new ethics for the common good.
Keith Thomson, professor emeritus of natural history at the University of Oxford and Executive Officer, American Philosophical Society, is an author, biologist, and historian of science. He has written extensively on the history of evolutionary ideas, on Charles Darwin, and most recently on Thomas Jefferson's interests in science and nature. He lives in Philadelphia, PA.
"This fresh and insightful book unpacks the science and religion debate with special attention to Thomas Jefferson and Charles Darwin, two of the greatest thinkers who helped make the modern world. Keith Thomson's approach is generous, personal, informative, and stylish: a real treat for readers who may not have come across his work before."—Janet Browne, author of Charles Darwin: Voyaging and Charles Darwin: Power of Place
"Frank, readable, and engaging. . . . Thomson has built a case for the pairing of science and religion to play a critical role in anchoring the intellectual questions of any age."—Susan Kern, author of The Jeffersons at Shadwell
"In this lucid account of the rise of religious doubt and how Jefferson and Darwin wrestled with it, Keith Thomson delivers an eloquent plea for more and better education in science and religion. His call for the participation of 'rational moderates' could not be more timely."—Christopher Lane, author of The Age of Doubt: Tracing the Roots of Our Religious Uncertainty
"An engaging, thought-provoking work that engages big questions and important issues in an accessible manner."—Frank Cogliano, author of Emperor of Liberty: Thomas Jefferson's Foreign Policy
"Informative and engaging"—Publishers Weekly
"Refreshingly modest and nondogmatic . . . a fresh approach . . . [the] book brims with lively anecdotes."—John Horgan, Wall Street Journal
"Sensible thinking about science and religion . . . [Thomson] seamlessly weaves together a number of important themes."—Marc Mangel, Bioscience