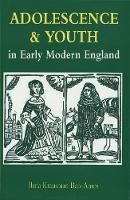 Format:

Paperback

Publication date:

23 Jul 2013

ISBN:

9780300204681

Imprint:

Dimensions:

352 pages: 235 x 156mm

Sales territories:

World
Categories:
In preindustrial England, few people could expect to live past the age of forty, and so adolescence and youth represented a significant proportion of an individual's life. This book by Ilana Krausman Ben-Amos is the first to explore in depth the transition from childhood to adulthood during this period, describing the maturation processes of young people from the middle and lower classes who spent their youth as apprentices, domestic servants, or agricultural servants and laborers.

Previous historians of the sixteenth and seventeenth centuries have assumed either that childhood was brief and there was no adolescence, or that childhood was prolonged and adolescence was maintained well into the mid-twenties. Ben-Amos argues instead that while the maturation process was prolonged in some cases, it was short and intense in others, and that variations were due to complex mental, social, and economic causes. Paying close attention to differences introduced by gender and social and geographical contexts, Ben-Amos focuses on numerous aspects of youths' lives as they related to maturation. These include the separation of adolescents from their parents, their working lives, acquisitions of new skills, social relationships, religious attitudes, sexual mores and norms, and leisure activities. Drawing on urban and court records, as well as on 74 contemporary autobiographies, Ben-Amos vividly recreates the experience of growing up in early modern England.

Ilana Krausman Ben-Amos is a lecturer of history at Ben-Gurion University, Beer-Sheva, Israel.