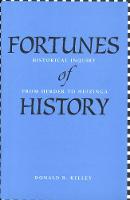 Fortunes of History Historical Inquiry from Herder to Huizinga Donald R. Kelley
Format:

Paperback

Publication date:

08 Oct 2013

ISBN:

9780300205022

Imprint:

Dimensions:

448 pages: 235 x 156mm

Sales territories:

World
Categories:
In Fortunes of History Donald R. Kelley offers an authoritative examination of historical writing during the "long nineteenth century"—the years from the French Revolution to those just after the First World War. He provides a comprehensive analysis of the theories and practices of British, French, German, Italian, and American schools of historical thought, their principal figures, and their distinctive methods and self-understandings.

Kelley treats the modern traditions of European world and national historiography from the Enlightenment to the "new histories" of the twentieth century, attending not only to major authors and schools but also to methods, scholarship, criticisms, controversies, ideological questions, and relations to other disciplines.

Donald R. Kelley is James Westfall Thompson Professor of History at Rutgers University and executive editor of the Journal of the History of Ideas.

"Fortunes of History shows better than any previous book both the proliferative richness of historiography and the one red thread running through it all, the unresolving tension between past and present."—Allan Megill, author of Karl Marx: The Burden of Reason




"A learned and brilliant portrait of the great age of Western historiography, when the history of nations and classes combined with German philosophy to make the history of Europe the history of mankind."—J.G.A. Pocock, author of Barbarism and Religion




"Professor Donald Kelley is a master in his field, the history of historical thought. His latest book combines a broad sweep with an enviable command of context and detail. It will be of great value to students and teachers of history, not least because it places the 'new history' of our time in the perspective of the last two centuries."—Peter Burke, Cambridge University




"Kelley is a master in his field, the history of historical thought. His latest book combines a broad sweep with an enviable command of context and detail."—Peter Burke, Cambridge University