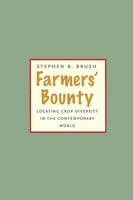 Farmers' Bounty Locating Crop Diversity in the Contemporary World Stephen B. Brush
Series:

Format:

Paperback

Publication date:

21 Jan 2014

ISBN:

9780300207552

Imprint:

Dimensions:

352 pages: 235 x 156mm

Illustrations:

31 b-w illus.

Sales territories:

World
Categories:
Biological diversity is as crucial in agriculture as it is in nature, and it is equally important to the economic health of both industrial and nonindustrial societies. This book offers a sweeping assessment of crop diversity and the potential for its preservation. Stephen B. Brush develops a framework for investigating biological diversity in agriculture that focuses on the knowledge and practice of farmers, and he shows how this human ecology perspective can be applied to three global issues that affect crop resources.
Brush defines the dimensions of crop diversity and outlines the essential questions surrounding it. He describes the techniques used to maintain diversity in major crops of three cradles of agriculture in which he has worked: potatoes in the Peruvian Andes, maize in Mexico, and wheat in Turkey. Finally, he explores the policy issues surrounding genetic erosion of crop varieties, conservation of crop diversity, and ownership of genetic resources.
Stephen B. Brush is professor, faculty of agricultural and environmental science, department of human and community development, University of California, Davis.
"A comprehensive and important work that brings together sophisticated analyses of recent academic research and policy initiatives, with insights gained by talking with farmers in their fields. The author's extraordinary breadth of experience on crop diversity issues comes through in every chapter of this authoritative, broad-ranging and highly readable text."—Christine Padoch, Institute of Economic Botany, New York Botanical Garden
"A panoramic and insightful analysis of the nature of crop diversity and the potential for its preservation. It should find a substantial audience among the many disciplines concerned with culture, human values, and sustainability of the planet Earth."—David Bates, Cornell University
"A stunning view of the interplay of nature and culture in food plant biodiversity. This masterpiece will be required reading for all who value the environmental sustainability and cultural diversity of agriculture."—Karl Zimmerer, University of Wisconsin, Madison
"An original and important contribution to a timely topic. It will become THE text in the field."—Michael R. Dove, Yale University