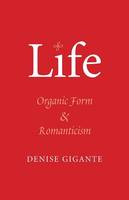 Life Organic Form and Romanticism Denise Gigante
Format:

Paperback

Publication date:

27 May 2014

ISBN:

9780300209044

Imprint:

Dimensions:

336 pages: 210 x 140 x 27mm

Illustrations:

5 b-w and 16 color illus.

Sales territories:

World
Categories:
What makes something alive? Or, more to the point, what is life? The question is as old as the ages and has not been (and may never be) resolved. Life springs from life, and liveliness motivates matter to act the way it does. Yet vitality in its very unpredictability often appears as a threat. In this intellectually stimulating work, Denise Gigante looks at how major writers of the Romantic period strove to produce living forms of art on an analogy with biological form, often finding themselves face to face with a power known as monstrous.
The poets Christopher Smart, William Blake, Percy Bysshe Shelley, and John Keats were all immersed in a culture obsessed with scientific ideas about vital power and its generation, and they broke with poetic convention in imagining new forms of "life." In Life: Organic Form and Romanticism, Gigante offers a way to read ostensibly difficult poetry and reflects on the natural-philosophical idea of organic form and the discipline of literary studies.
Denise Gigante is associate professor of English, Stanford University, author of Taste: A Literary History and editor of The Great Age of the English Essay: An Anthology, both published by Yale University Press.
The idea of the organic has troubled critics from Coleridge through Walter Pater on to their modern scholars. Denise Gigante's Life brings extraordinary clarity and renewed force to this traditional perplexity."—Harold Bloom


"Life develops an important subject with much persuasive force, making use of extensive and careful research. It demonstrates that concepts of 18th-century vitalistic biology are essential to understanding the forms of major Romantic poems."—Karl Kroeber, Columbia University

"Moving gracefully from Smart's animals to Keats' magnetic monsters, this brilliant book asks what the Romantic poets—or anyone—might mean by the deep and easy word 'life.'"—Michael Wood, Princeton University