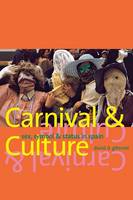 Carnival and Culture Sex, Symbol, and Status in Spain David D. Gilmore
Format:

Paperback

Publication date:

24 Jun 2014

ISBN:

9780300209051

Imprint:

Dimensions:

256 pages: 235 x 156mm

Illustrations:

12 b-w illus.

Sales territories:

World
Categories:
Each year in the weeks preceding the deprivations of Lent, the Andalusian region of southern Spain erupts into madcap depravity, during a February carnival of riotous celebration. Carnival features subversive songs, burlesques and skits, transvestite parades, and public persecution of communal offenders, along with mournful elegies and heartfelt panegyrics. In this lively book, anthropologist David D. Gilmore explores the meanings of Andalusian carnival, focusing particular attention on the songs, or coplas. He offers translations of many of these carnival productions and mines the rich vein of oral literature for a new understanding of the ways in which the Andalusian people interpret and negotiate their world.

Not only does carnival provide many insights into ritual behavior and folk art in Spain but, Gilmore shows, the festival also offers similar insights into rituals of revelry and disinhibition elsewhere, whether mumming, Mardi Gras, Fasching, or Walpurgisnacht. In a fresh perspective on carnival, he reveals that in Spain the lower classes mix abuse of elites with a surprising degree of respect and even veneration. Gilmore concludes that Andalusian carnival is less about revolution or politics per se than about the inescapable ambivalence of all human feeling.
David D. Gilmore is professor of anthropology at the State University of New York at Stony Brook. He is the author of Manhood in the Making: Cultural Concepts of Masculinity and Aggression and Community: Paradoxes of Andalusian Culture, both published by Yale University Press.
Selected as an Outstanding Academic Title by
Choice Magazine
"Gilmore's superb study achieves universal relevance precisely through its particularity—a goal often sought after but seldom achieved by anthropologists."—Timothy Mitchell, author of Flamenco Deep Song