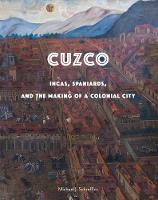 Cuzco Incas, Spaniards, and the Making of a Colonial City Michael J Schreffler
Format:

Hardback

Publication date:

14 Jul 2020

ISBN:

9780300218114

Imprint:

Dimensions:

200 pages: 267 x 216mm

Illustrations:

94 color + b-w illus.
Categories:
Through objects, buildings, and colonial texts, this book tells the story of how Cuzco, the capital of the Inca Empire, was transformed into a Spanish colonial city. When Spaniards invaded and conquered Peru in the 16th century, they installed in Cuzco not only a government of their own but also a distinctly European architectural style. Layered atop the characteristic stone walls, plazas, and trapezoidal portals of the former Inca town were columns, arcades, and even a cathedral.
 
This fascinating book charts the history of Cuzco through its architecture, revealing traces of colonial encounters still visible in the modern city. A remarkable collection of primary sources reconstructs this narrative: writings by secretaries to colonial administrators, histories conveyed to Spanish translators by native Andeans, and legal documents and reports. Cuzco's infrastructure reveals how the city, wracked by devastating siege and insurrection, was reborn as an ethnically and stylistically diverse community.
Michael J. Schreffler is associate professor in the department of Art, Art History & Design at the University of Notre Dame, Indiana.