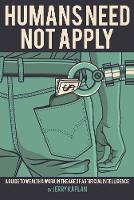 Humans Need Not Apply A Guide to Wealth and Work in the Age of Artificial Intelligence Jerry Kaplan
Format:

Paperback

Publication date:

03 Jan 2017

ISBN:

9780300223576

Imprint:

Dimensions:

256 pages: 210 x 140mm

Sales territories:

World
Categories:
An insightful, engaging tour by a noted Silicon Valley insider of how accelerating developments in Artificial Intelligence will transform the way we live and work

Selected as one of the 10 best science and technology books of 2015 by The Economist
 
After billions of dollars and fifty years of effort, researchers are finally cracking the code on artificial intelligence. As society stands on the cusp of unprecedented change, Jerry Kaplan unpacks the latest advances in robotics, machine learning, and perception powering systems that rival or exceed human capabilities. Driverless cars, robotic helpers, and intelligent agents that promote our interests have the potential to usher in a new age of affluence and leisure — but as Kaplan warns, the transition may be protracted and brutal unless we address the two great scourges of the modern developed world: volatile labor markets and income inequality. He proposes innovative, free-market adjustments to our economic system and social policies to avoid an extended period of social turmoil. His timely and accessible analysis of the promise and perils of artificial intelligence is a must-read for business leaders and policy makers on both sides of the aisle.
Jerry Kaplan is currently a fellow at the Center for Legal Informatics at Stanford University and teaches ethics and impact of artificial intelligence in the Computer Science Department.
"Glimmers with originality and verve. . . . Others have raised these issues but Mr. Kaplan is unique in devising solutions."—Economist
"A reminder that AI systems don't need red laser eyes to be dangerous."—John Gilbey, Times Higher Education Supplement
"Kaplan also sidesteps the usual arguments of techno-optimism and dystopia, preferring to go for pragmatic solutions to a shrinking pool of jobs."—Emma Jacobs, Financial Times
"Well worth reading, especially by anybody who wants to go painlessly from a standing start to a pretty thorough grounding in a debate that's only going to intensify in the years ahead."—James Walton, The Guardian
"An intriguing, insightful and well-written look at how modern artificial intelligence, powering algorithms and robots, threatens jobs and may increase wealth inequalities, by a Silicon Valley entrepreneur and AI expert."—The Economist, "Books of the Year"
"Kaplan gives a fascinating insight into this world we are moving into . . . reveals, in an informative and engaging way, the issues we need to be aware of in this fascinating area of technological advancement."—Jonathan Stevens, Legal Practice Management
"Artificial intelligence will transform how we live and work. But how we use AI is up to us. We are lucky to have as gifted and experienced a thinker as Jerry Kaplan to guide us as we navigate through this new age."—John Doerr, Partner at Kleiner Perkins Caufield & Byers
"Soon, Jerry Kaplan suggests from his perch at Stanford's AI Lab, 'synthetic intellects' and 'forged laborers' are going to start changing the world in unpredictable ways. How can we make sure the benefits they deliver are broadly distributed? In this candid and informed take on the coming AI revolution—and how we might mitigate its problematic aspects—Jerry will have you thinking long into the night about a future that's just around the corner."—Reid Hoffman, co-founder/chairman of LinkedIn and co-author of the #1 NYT bestseller The Alliance: Managing Talent in the Networked Age
"In a world where the popular perception of Artificial Intelligence is often driven by Hollywood fiction, it's refreshing to read such a realistic and insightful analysis to help inform public discourse about this important technology."—Ron Moore, producer and screenwriter for Star Trek and Battlestar Galactica
"AI is creating enormous wealth, but there's no economic law that everyone will share in this bounty. As Jerry Kaplan masterfully explains, the great challenge is to harness these new technologies to deliver shared prosperity."—Erik Brynjolfsson, co-author of The Second Machine Age: Work, Progress, and Prosperity in a Time of Brilliant Technologies
"A compelling, prophetic, and timely book from a leading technology thinker, Humans Need Not Apply is a must-read for entrepreneurs, scientists, policymakers, and anyone concerned about the promise and peril of artificially intelligent machines."—Fei-Fei Li, Director, Stanford Artificial Intelligence Lab