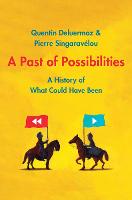 Format:

Hardback

Publication date:

09 Nov 2021

ISBN:

9780300227543

Imprint:

Dimensions:

384 pages: 235 x 156mm

Sales territories:

World
Categories:
An exploration of hypothetical turning points in history from Ancient Greece to September 11

What if history, as we know it, had run another course? Probing the genre of literature and history that is fascinated with hypotheticals surrounding key points in history, A Past of Possibilities reaches beyond a reimagining of history, exploring the limits and potentials of alternate histories. Wide-ranging in scope, it examines the Boxer Rebellion in China, the 1848 revolution in France, and the assassination of Archduke Franz Ferdinand, and integrates science fiction, history, historiography, anthropology, and film.
Quentin Deluermoz is Professor of History at the University of Paris. Pierre Singaravélou is Professor of History at King's College London and at the University Panthéon-Sorbonne. Stephen W. Sawyer is Professor of History at the American University of Paris.