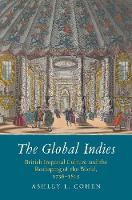 The Global Indies British Imperial Culture and the Reshaping of the World, 1756-1815 Ashley L. Cohen
Series:

Format:

Hardback

Publication date:

23 Feb 2021

ISBN:

9780300239973

Imprint:

Dimensions:

320 pages: 235 x 156mm

Illustrations:

17 b-w illus.

Sales territories:

world
Categories:
A study of British imperialism's imaginative geography, exploring the pairing of India and the Atlantic, from literature to colonial policy

In this lively book, Ashley Cohen reveals how eighteenth-century Britons saw the empire—not as separate Atlantic and Indian spheres but as an interconnected "Indies." Crisscrossing the hemispheres, Cohen traces global histories of race, slavery, and class. She also locates empire's presence at home, in metropolitan scenes of fashionable sociability. Combining literary studies and new imperial history, Cohen demonstrates how the imaginative geography of the Indies shaped the culture of British imperialism, which then changed the shape of the world.
Ashley Cohen is assistant professor of English at the University of Southern California. She works at the intersection of eighteenth-century, postcolonial, and South Asia studies. She edited a critical edition of Lady Nugent's East India Journal in 2014.
"An extraordinarily original and important study; one that has the potential to re-orient multiple fields of enquiry. Both in its conception and its execution we are dealing with scholarship of the highest order."—Daniel O'Quinn, University of Guelph
"Ashley Cohen challenges the separation in eighteenth-century scholarship between the east and the west. This trailblazing book will become an indispensable point of reference for future studies in the field."—Ramesh Mallipeddi, University of Colorado Boulder
"A deeply researched account ... Cohen expertly tracks how Britons actually imagined their emergent empire and offers important clues to the slippery meanings of racialized thought."—Felicity Nussbaum, University of California, Los Angeles
 
"Masterfully excavating eighteenth-century Britain's mental map of empire, Cohen challenges us to read the past as a place that made its world through the work of critical thinking. Powerful, innovative scholarship."—David Francis Taylor, University of Oxford
"Combining magisterial overview with exquisite detail, this book is utterly compelling. Every page bursts with ideas and bustles with a fascinating cast of international characters. It will become a classic."—Isabel Hofmeyr, author of Gandhi's Printing Press