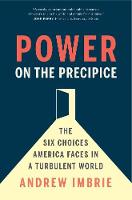 Power on the Precipice The Six Choices America Faces in a Turbulent World Andrew Imbrie
Format:

Hardback

Publication date:

13 Oct 2020

ISBN:

9780300243505

Imprint:

Dimensions:

280 pages: 235 x 156mm

Illustrations:

8 b-w illus.
Categories:
Is America fated to decline as a great power? Can it recover? With absorbing insight and fresh perspective, foreign policy expert Andrew Imbrie provides a road map for bolstering American leadership in an era of turbulence abroad and deepening polarization at home.
 
This is a book about choices: the tough policy trade-offs that political leaders need to make to reinvigorate American money, might, and clout. In the conventional telling, the United States is either destined for continued dominance or doomed to irreversible decline. Imbrie argues instead that the U.S. must adapt to changing global dynamics and compete more wisely.
 
Drawing on the author's own experience as an advisor to Secretary of State John Kerry as well as interviews and comparative studies of the rise and fall of nations, this book offers a sharp look at American statecraft and the U.S.'s place in the world today.
 
Andrew Imbrie is a senior fellow at Georgetown University's Center for Security and Emerging Technology. He served as a speechwriter and advisor to Secretary of State John Kerry and as a professional staff member on the Senate Foreign Relations Committee. Imbrie lives in Chevy Chase, MD.