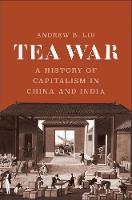 Tea War A History of Capitalism in China and India Andrew B. Liu
Format:

Hardback

Publication date:

23 Jun 2020

ISBN:

9780300243734

Imprint:

Dimensions:

360 pages: 235 x 156mm

Illustrations:

25 b-w illus.

Sales territories:

World
Categories:
A history of capitalism in nineteenth- and twentieth-century China and India exploring the competition between their tea industries

In studying the competition between the tea industries of China and colonial India, Andrew B. Liu challenges previous histories of capitalism premised on the technical "divergence" between the West and the Rest, arguing that seemingly traditional technologies and practices were central to modern capitalist development in the tea districts. This examination of labor practices and political-economic thought points toward more flexible and globally oriented conceptualizations of capitalism.
Andrew B. Liu is assistant professor of history at Villanova University, where his research focuses on China, transnational Asia, and the history of capitalism. He lives in Philadelphia, PA.
"Tea War is not only a detailed comparative history of the transformation of tea production in the 19th and early 20th centuries, but it also intervenes in larger debates about the nature of capitalism, global modernity, and global history."— Alexander F. Day, Occidental College
"In Tea War, Andy Liu grapples with the question of how to write the history of capitalism beyond the North Atlantic. His comparative study of two Asian frontier regions presses us to rethink the conventional signposts around which the history of capitalism has conventionally been written. He shows how careful empirical inquiry and social theory can inform each other in innovative and exciting ways."—Andrew Sartori, New York University
"Andy Liu's Tea Wars opens worlds by closing in on the processes of tea production in nineteenth-century India and China. Liu's contentions about capitalism provoke; his meticulous empirical excavations persuade."—Rebecca E. Karl, New York University