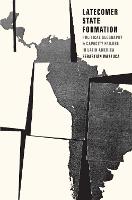 Latecomer State Formation Political Geography and Capacity Failure in Latin America Sebastian Mazzuca
Format:

Hardback

Publication date:

13 Jul 2021

ISBN:

9780300248951

Imprint:

Dimensions:

464 pages: 235 x 156 x 37mm

Illustrations:

13 b-w illus.

Sales territories:

World
Categories:
A major contribution to the field of comparative state formation and the scholarship on long-term political development of Latin America

Latin American governments systematically fail to provide the key public goods for their societies to prosper. Sebastián Mazzuca argues this is because nineteenth-century Latin American state formation occurred in a period when commerce, rather than war, was the key driver forging countries. Latin American leaders pursued the benefits of international trade at the cost of long-term liabilities built into the countries they forged, notably patrimonial administrations and dysfunctional regional combinations.
Sebastián Mazzuca is assistant professor of political science at Johns Hopkins University. His research and teaching focus on the political economy of development, democratization, and state formation.
"This book delivers what Max Weber never did—an empirically convincing positive theory of state formation. You'll never think about Latin America in the same way again."—James A. Robinson, University of Chicago
 

 
"In this dazzling and conceptually innovative book, Mazzuca distills the core logic of state formation in Latin America.  Latecomer State Formation illuminates how global historical forces shape the very size and capacity of modern states. Magisterial and incisive, it is indispensable reading for any comparative scholar of state-building in the post-colonial world."—Maya Tudor, University of Oxford 
 

"Each page explodes with intellectual energy and new insights. It teaches a profound lesson: forming a state is not the same as state-building. Historically rich and conceptually innovative, this is the best book I have read on state-building in over a decade."—Daniel Ziblatt, Harvard University
 

"Trade makes states, but it makes weaker states than war. Mazzuca sheds new light on why Latin American politicians formed states that were territorially solid yet institutionally incapable. In our collective quest to understand non-European states, Mazzuca's far-reaching study helps us draw lessons from Latin America as much as from Europe."—Dan Slater, University of Michigan
 

"An extraordinarily interesting book about a central theme in social science and history: how states are created and how they become effective. The book combines deep and broad historical research on Latin America with major conceptual and theoretical innovations."—Scott Mainwaring, University of Notre Dame