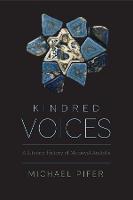 Kindred Voices A Literary History of Medieval Anatolia Michael Pifer
Format:

Hardback

Publication date:

27 Jul 2021

ISBN:

9780300250398

Imprint:

Dimensions:

320 pages: 235 x 156mm

Illustrations:

7 b-w illus.
Categories:
The fascinating story of how premodern Anatolia's multireligious intersection of cultures shaped its literary languages and poetic masterpieces

Michael Pifer explores how Muslim and Christian poets of Anatolia grappled with the stunning cultural diversity of their region, home not only to Armenians and Greeks, but also to Persians, Turks, Arabs, Mongols, Jews, and others. This convergence produced fresh poetic styles and sensibilities, native to no single people, enabling the period's literature to speak to new and wider audiences. It is the first book to study the era's major poets against the canvas of this broader literary ecosystem.
Michael Pifer is lecturer in Armenian language and literature at the University of Michigan. His publications include the coedited volume An Armenian Mediterranean: Words and Worlds in Motion. He lives in Ann Arbor, MI.