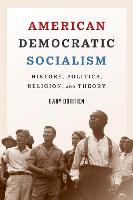 American Democratic Socialism History, Politics, Religion, and Theory Gary Dorrien
Format:

Hardback

Publication date:

09 Nov 2021

ISBN:

9780300253764

Imprint:

Dimensions:

752 pages: 235 x 156mm

Sales territories:

World
Categories:
A sweeping, ambitious history of American democratic socialism from one of the world's leading intellectual historians and social ethicists

The United States is witnessing a surge of democratic socialism, a reflection of a widespread recognition that global capitalism works only for a minority and is harming the planet's ecology. This history of American democratic socialism from its beginning to the present day begins with radical democrats of the early American republic and tracks the American refashioning of a European idea. It tells a story about socialists who founded the Republican Party and the first American socialist organizations, emphasizing that women and African Americans came to socialist activism mostly through Christian socialism, as did leaders of the first great hope of radical industrial unionism, the Knights of Labor.
 
Comprehensive, deeply researched and highly original, this book offers an impressive synthesis of secular and religious socialisms, detailing both their intellectual and their organizational histories.
Gary Dorrien is the Reinhold Niebuhr Professor of Social Ethics at Union Theological Seminary and Professor of Religion at Columbia University. His previous books with Yale University Press include The New Abolition, Breaking White Supremacy, and Social Democracy in the Making. He lives in New York City.
"Gary Dorrien is the greatest theological ethicist of the twenty-first century, our most compelling political theologian, and one of the most gifted historians of ideas in the world. His American Democratic Socialism is a work of astonishing erudition. Best of all, Dorrien is not only a searing chronicler of prophetic thought, but also a bold Christian participant in the historic quest for social justice."—Michael Eric Dyson, author of Entertaining Race: Performing Blackness in America. 
 

"Dorrien's book is a tour de force. With eloquence and rigor, it reveals the strong history of democratic socialism in the U.S. It imagines an economic democracy that weds ecological survival with economic, racial, and gender justice. That is a matter of life and death."—Cynthia Moe-Lobeda, author of Resisting Structural Evil: Love as Ecological-Economic Vocation
 

"The book highlights Dorrien's striking thinking as a strategist in the fight for socialism as well as a superb historian who brings the role of religion into the center of the story."—Richard Healey, Senior Advisor, Grassroots Policy Project

"American Democratic Socialism is a brilliant and timely book. Dorrien offers a big, ambitious, synthetic political and intellectual history of the whole American democratic socialist tradition, giving particular attention to religious socialists, the centrality of race in American politics, and the intellectual contributions of women."—Geoffrey Kurtz, author of Jean Jaurès: The Inner Life of Social Democracy
 

"This is the history of American religious socialism we need as we debate and organize for greater equity in the political economy. Dorrien brilliantly excavates the unique intersectional contexts of the U.S. helping us understand how we got to this political moment and where we might go next."—Melissa Snarr, Vanderbilt Divinity School