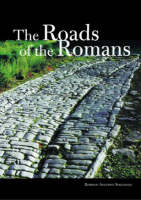 Format:

Hardback

Publication date:

31 Mar 2006

ISBN:

9780892367320

Imprint:

Dimensions:

128 pages: 251 x 176 x 15mm

Illustrations:

120 colour illustrations
Categories:
While the ancient Romans were not the first society to construct a system of great roads, they did introduce important technical advancements and develop a highly organized and pervasive network that joined their territories in a gigantic web. Spanning over 50,000 miles and three continents, the network was a defensive matrix as well as a means to integrate the provinces into their empire. Without it, the empire would never have grown so vast or lasted as long. Beginning with the city streets of Rome, Romolo Staccioli's study progresses outward to the suburban routes linking Rome with surrounding towns; the Via Latina, the national road that was the backbone of the entire system; and the great "consular" roads such as the Via Appia that connected Rome with the distant regions of its sprawling empire. Staccioli considers the infrastructure (bridges, viaducts, and tunnels) that supported the system as well as the facilities (rest stations as well as vehicle and sundry services) that supported its travellers. Finally, he discusses the extent to which this system survived the end of the ancient world and remained operative, with various modifications, into the modern age.