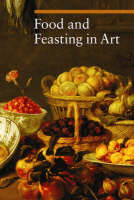 Format:

Paperback / softback

Publication date:

08 May 2008

ISBN:

9780892369140

Imprint:

Dimensions:

384 pages: 199 x 138 x 24mm

Illustrations:

400 colour illustrations
Deliciously illustrated with masterpieces of western art, this latest volume in the highly acclaimed "Guide to Imagery" series explores the rituals, customs, and symbolism of food and dining in art.It features a dedicated mailing and e-mail campaign to targeted art and food media.This sumptuous new guide describes the importance of food and feasts in art throughout history: as told in the Scriptures and in the lives of the saints; food and dining in Greek and Roman mythology; food in later literature and history; how artists through the ages have created allegories of gluttony and odes to the sense of taste; also discussed is the role of table settings in relation to ceremonies such as formal dinners and royal banquets; and, lastly, a close-up look at the symbolic meaning of individual foods and drinks - from the artichoke to champagne and from chilli peppers to absinthe.
Silvia Malaguzzi teaches art history of the Renaissance at the Fashion Institute of Technology, State University of New York. She writes for the magazine Art e Dossier.