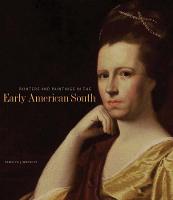 Painters and Paintings in the Early American South Carolyn J. Weekley
Format:

Hardback

Publication date:

19 Mar 2013

ISBN:

9780300190762

Imprint:

Dimensions:

448 pages: 286 x 248mm

Illustrations:

339 color + 2 b-w illus.

Sales territories:

World
This beautifully illustrated volume presents the complex ways in which the lives of artists, clients, and sitters were interconnected in the early American South. During this period, paintings included not only portraits, but also seascapes, landscapes, and pictures made by explorers and naturalists.
The first comprehensive study of this subject, Painters and Paintings in the Early American South draws upon materials including diaries, correspondence, and newspapers in order to explore the stylistic trends of the period and the lives of the sitters, as gentility spread from the wealthiest southerners to the middle class. Featuring works by John Singleton Copley, Charles Willson Peale, and Benjamin West, among many others, this important book examines the training and status of painters, the distinction between fine art and the mechanical arts, the popularity of portraiture, and the nature of clientele between 1540 and 1790, providing a new, critical understanding of the history of art in the American South.
Carolyn J. Weekley is Juli Grainger Curator at the Colonial Williamsburg Foundation. She is co-author of Treasures of American Folk Art: From the Abby Aldrich Rockefeller Folk Art Center and The Kingdoms of Edward Hicks.
"Rich in fact, detailed in prose, and colorful in presentation, this title sets a new standard."—Library Journal, starred review

"Though several recent art historical studies have examined the plantation landscape, no comprehensive volume tackling the rich history of painting production in the South from 1564 through 1791 has existed until now. With this monumental study, Weekley. . . fills this lacuna thoroughly and handsomely."—Choice

Selected as a Choice Outstanding Academic Title for 2013 in the Fine Arts Category.
Winner of the 2014 Great Southeast Book Festival in the Photography/Art category.