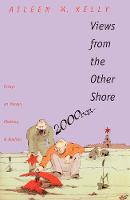 Views from the Other Shore Essays on Herzen, Chekhov, and Bakhtin Aileen M. Kelly
Series:

Format:

Paperback

Publication date:

01 Aug 1999

ISBN:

9780300194623

Imprint:

Dimensions:

272 pages: 229 x 152mm

Sales territories:

World
In this brilliant companion volume to her highly praised Toward Another Shore: Russian Thinkers Between Necessity and Chance, Aileen M. Kelly closely examines a humanist strand of Russian thought that has until now received little notice or understanding. She finds in the writings of Aleksandr Herzen, Anton Chekhov, and Mikhail Bakhtin a pioneering emphasis on the role of chance and contingency in nature and history. Their writing on this theme, she argues, establishes the importance of these humanists in the development of European thought.

Herzen, the principal subject of the book, was among the first nineteenth-century thinkers to challenge the assumptions underlying doctrines of universal progress. Kelly links Herzen's outlook to the work of such Western humanists and scientists as Francis Bacon, Schiller, Proudhon, J. S. Mill, and Darwin. She shows how the view of freedom that Herzen shared with Chekhov and Bakhtin provides an antidote both to traditional absolutes and to the boundless relativism of much postmodern theory. As such it offers an answer to the question now besetting intellectuals in Russia and the West: how to ground morality after the collapse of ideological certainties.

Aileen M. Kelly is a lecturer in Russian Studies at Cambridge University and a fellow of King's College. She is a frequent contributor to the New York Review of Books and other major journals.

"The Russian intellectual tradition that triumphed under Joseph Stalin fostered nationalism, xenophobia, collectivism and messianic utopianism. . . . Aileen Kelly reminds us of another Russian tradition?'the other shore'?writers who were more modest in their aspirations and realistic in their assessments. The philosophers Alexander Herzen, Mikhail Bakhtin, and Anton Chekhov, among others, distrusted final solutions. . . . The author writes of these thinkers with enormous acumen, vigor and sympathy."?Milton Ehre, Washington Times
"Aileen M. Kelly is one of the finest intellectual historians now writing. Like her mentor Isaiah Berlin, she is remarkably wide-ranging, moving easily from philosophy to literature to history, and no less at home in English, French and German thought than in her own area of expertise, 19th and 20th century Russians writers and thinkers. She can draw correspondences across great distances and time periods, see connections that narrower specialists would miss. And she is a natural teacher, able to present dense, difficult theories clearly and concisely, without doing damage to their complexity. Yet the real energy of her writing comes not so much from her erudition as from her moral fervor. . . . In many ways this book is superior to Towards Another Shore. It may be narrower in scope, but it is more coherent, even more accessible, and it provides an excellent distillation of Kelly's own thought."?Barry Gewen, New York Times Book Review
"Indispensable reading for the growing number of specialists and educated general readers who have come to appreciate the importance of Alexander Herzen to Russian and European thought."?David R. Costello, History: Reviews of New Books
"In bringing these three philosophers together, Kelly has offered a worthwhile service for advanced students of Russian thought."?Jackson Taylor, H-Net Reviews
"These essays are indispensable for anyone working in this field. . . . Extremely valuable."?Judith Zimmerman, Slavic Review
"Views from the Other Shore is an impressive book: it is well-written, passionately argued and based on wide reading in Herzen?s oeuvre."?G.M. Hamburg, The Russian Review